The acromioclavicular or AC joint is the union between your clavicle or collarbone and the acromium, which is part of your scapula. Held in place by the coracoclavicular and coracoacromial ligaments, the AC joint is an integral part of your shoulder girdle. If these ligaments become damaged, the AC joint can become lax and pain can result. If you have an AC joint injury, avoid certain exercises that could delay your recovery or worsen it.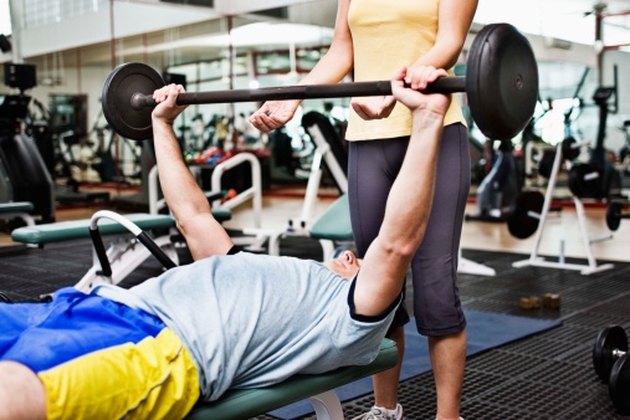 Causes of Injury to the AC Joint
The AC joint can become injured in a number of ways. Falling or sustaining an impact on the outer region of the shoulder joint, overstraining while lifting objects overhead or pulling weights across the front of your body, falling onto your outstretched arm and fractures to the acromium process or clavicle bones can result in damage to the ligaments of the AC joint. The resulting damage to the AC joint can manifest as pain in the distal end of the clavicle, reduced function and/or range of movement of the shoulder girdle and possible visible displacement of the AC joint. If you suspect you have an AC joint injury, seek medical advice.
Ranges of Movement
AC joint laxity may mean that exercises with a large range of movement are painful. Deep push-ups, full-range bench presses and pullover exercises are best avoided. To minimize the effect of exercise on the AC joint, perform these types of exercise in the outer range only. In other words, don't lower the bar to your chest when bench pressing but stop six inches or so above your chest. When performing push-ups, only bend your arms to 90 degrees and stop well short of lowering your chest to the floor. For overhead pressing exercises, only lower your hands to level with your ears. Find your pain-free range of movement zone and stay within it.
Exercises to Avoid – Pressing and Pulling
Exercises in which the bar is lowered or pulled to behind your neck place a lot of pressure on your AC joint and are best avoided. Lat pull-downs behind the neck and behind-the-neck shoulder presses are the main exercises to avoid. Holding a barbell behind your neck while squatting may also cause discomfort. Upright rows and shoulder shrugs place a lot of stress through the AC joint and are also best avoided, according to "Sports Injuries: "A Self-Help Guide."
Exercises to Avoid – Long Lever Exercise
Any exercise in which your extended arm is raised away from your midline places a large shearing force on your AC joint. This includes cable and dumbbell side lateral raises and front raises. Medicine ball throwing exercises also create a significant shearing force through your AC joint and are best avoided. There is no safe way to perform these exercises if you have an AC joint injury so you should only perform them once your injury has healed, says "Sports Injuries: A Self-Help Guide."
General Exercise Performance
When performing any weightlifting exercises, try to keep an active shoulder girdle to minimize the stress on your AC joint. Even exercises that don't directly involve your AC joint can cause further insult and injury if you don't keep your AC joint as stable as possible while you work out. Concentrate on keeping your shoulders pulled down and back whenever you work out. Fixing your shoulder in place using your muscles minimizes the stress on your AC joint and the associated ligaments.