Tendons are the binders, like cords, that hold muscles and bones together to allow you to move normally. When a tendon becomes inflamed, the condition is called tendinitis. Other words for tendinitis are related to the part of the body the pain and irritation affects: tennis elbow and swimmer's shoulder are two such terms. Working out with tendinitis is challenging, and you may need to adjust your workout to avoid re-injury.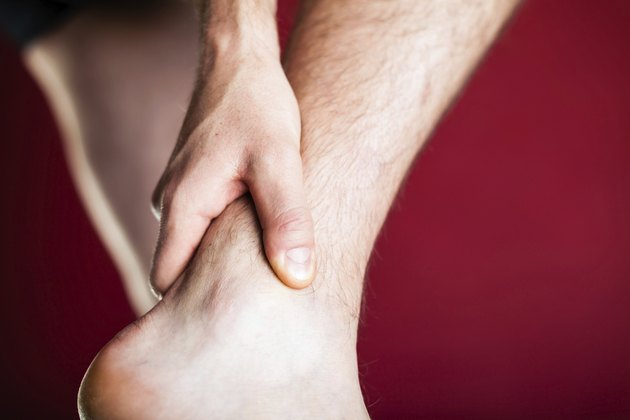 Step 1
Rest the painful area until the discomfort has subsided or until you have your doctor's permission to begin to exercise again. The Mayo Clinic discourages you from "working through the pain" of tendinitis, because the tendon does not have adequate time to heal. Depending on the extent of your injury, you may need to put your workout on hold for a few days or several weeks.
Step 2
Exercise carefully as you resume workouts, rather than starting a full-on routine right away. The American Academy of Orthopaedic Surgeons (AAOS) February 2003 Bulletin explains that tendinitis is more likely if you are not used to exercising and begin a high-impact program. Gradually work yourself up to your full potential to avoid over-extending yourself and irritating the painful tendon even more.
Step 3
Apply heat to your tendinitis-stricken area and stretch out the surrounding muscles before you exercise. Your doctor or physical therapist can show you specific exercises based on which joint is painful.
Step 4
Cross-train to take the strain off your affected limb or joint, suggests the Mayo Clinic. If you have tendinitis in your shoulder, for example, focus on strengthening your lower body through jogging or biking while your shoulder heals. Rotate the type of workout you do throughout the week, so that you train your entire body without putting more pressure on certain joints.
Step 5
Exercise in a pool. The buoyancy provided by water reduces stress on injured joints and tendons.
Step 6
Apply ice to muscles and tendons after your workout if tendinitis continues to bother you, recommends the AAOS. Twenty minutes should be sufficient to reduce inflammation and take the edge off your pain.