Weight-related forearm pain can be frustrating and debilitating. It can make even simple tasks unbearable and it can signal serious injury that requires medical attention. It's important to understand what causes weight-related forearm pain and how it can be prevented and treated.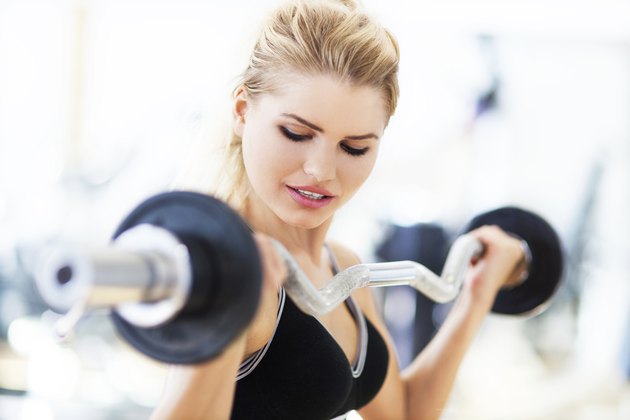 Symptoms
The symptoms of weight-related forearm pain can range from a dull ache to severe discomfort in your forearm. This can be accompanied by a variety of other symptoms including tenderness, swelling, warmth, bruising or skin discoloration. In severe cases, you'll experience pain in the upper arm and shoulder, muscle weakness or a loss of arm mobility.
Causes
Weight-related forearm pain can occur if you overuse the arm muscles -- especially if you push yourself too hard or weight-train daily. It can develop if you fracture a bone, sprain a muscle or strain a tendon in the forearm when using weights. In addition, you can also develop tendinitis. This condition occurs suddenly or from continuously repeating a particular movement, such as lifting weights over a long period.
Treatments
Seek medical attention if you suspect a fracture or tendinitis. If the forearm pain is mild, take a break from weights until the pain subsides. The National Institutes of Health's MedlinePlus recommends applying ice or heat to the forearm for about 20 minutes at a time for the first 72 hours. Wrap your forearm with a medical bandage to reduce pain and inflammation. Acetaminophen or ibuprofen are the recommended over-the-counter medications to control symptoms.
Tips
Do dynamic stretching before you begin strength training exercises. If you notice pain during weight training or while exercising with weights, stop and stretch your arms. The American College of Sports Medicine recommends your exercise routine include aerobic exercise, strength training and flexibility. Vary your workout and avoid doing the same repetitive routine daily -- this reduces your risk of injury. Ask a professional fitness instructor for tips. You're at a higher risk for injury if you don't practice proper strength training techniques.