Androgens are the group of male hormones that include testosterone. Excess production can lead to a number of hormonal disorders like polycystic ovary syndrome and might even increase cancer risk. No official diet exists to deal with excess androgen production, like it does for a condition like diabetes,but making certain dietary changes has been linked to lower androgen levels.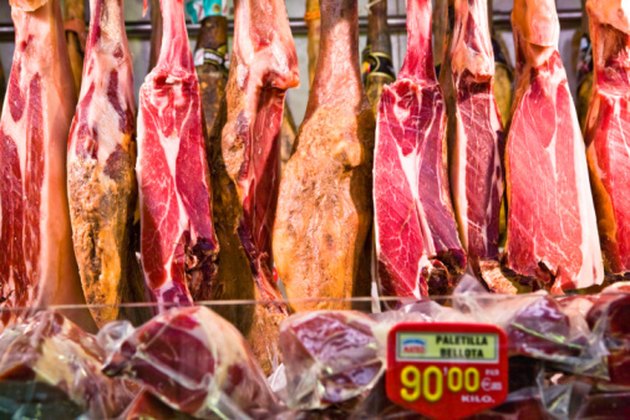 Insulin and Androgens
The MayoClinic.com explains that increased levels of insulin might trigger the body to make more androgens. Your body produces the hormone insulin to help move glucose — the substance created from carbohydrates — into your cells. Diet heavily influences insulin levels and watching carbohydrate intake can help reduce insulin production.
Daily Carbohydrate Intake
No blanket recommendation exists for a daily intake of carbohydrates to mitigate insulin production, but endocrinologist and PCOS expert, Dr. Walter Futterweit of the Mount Sinai School of Medicine, recommends limiting consumption to about 50 percent of total calories, or 40 percent if you are overweight. If you have another condition where excess androgen is a concern, you might also benefit from these guidelines.
Other Carbohydrate Considerations
A study published in a 2001 edition of "Cancer Epidemiology, Biomarkers and Prevention," looked at the influence of diet on the production of excess androgens — a risk factor for postmenopausal breast cancer. Led by Italian researchers at the Instituto Nazionale Tumori, the study looked at the effects of a diet rich in low-glycemic foods versus a diet rich in high-glycemic foods. The Glycemic Index ranks foods on a scale of one to 100 based on how quickly they raise blood sugar and insulin levels. The women ate specially prepared meals and the group following the low glycemic diet experienced a 20 percent drop in androgens compared to 7 percent in the control group.
High-glycemic index foods include sugary foods and drinks and refined, white flour carbohydrates like white bread and other white-flour foods. Good carbohydrate choices include fiber-rich foods such as whole grains like oatmeal and brown rice as well as non-starchy vegetables like leafy greens, broccoli, spinach, onions, peppers, garlic, squash, peppers and cucumbers.
Androgens and Animal Foods
A study conducted at the University of Helsinki in Finland and published in the "Journal of Clinical Nutrition" found that a higher intake of protein and fats were associated with higher levels of androgens. Vegetarians had lower levels of male hormones than meat-eaters. High intake of plant foods, particularly fiber-rich whole grains, appeared to lower levels.
Phytoestrogens
The Italian study also noted that eating foods rich in phytoestrogens appears to lower androgen levels. Phytoestrogens, found in plant foods, are a weaker form of estrogen than that found in the body. The richest sources include tofu, soybeans and flax seed.