Estrogen is a hormone primarily involved in the development, maturation and function of the female reproductive system. While estrogen is made by the body, certain foods contain high amounts of plant-based estrogens that have a similar effect compared to human estrogen. Known as phytoestrogens, these plant estrogens are found in vegetables, fruit, grains, nuts, seeds and legumes — such as black beans, soy and lentils.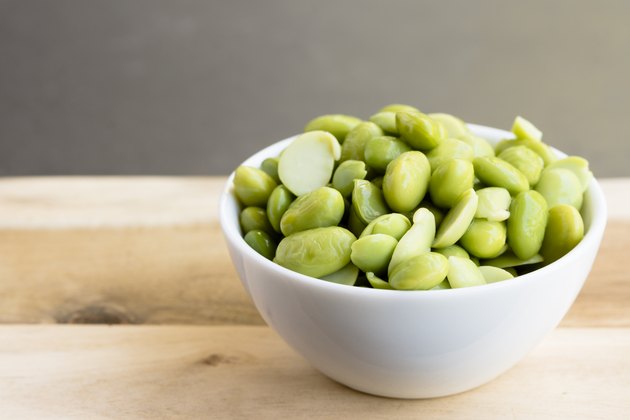 Estrogen and Health
Estrogen is a major sex hormone involved in sexual development, pregnancy, menstruation, as well as bone, heart and emotional health. Phytoestrogens are structurally similar to human estrogen, and because they bind to estrogen receptors in the body, they can have either weak estrogen effects or estrogen-blocking effects.
Some potential benefits of phytoestrogens include a lowered risk of menopausal symptoms and heart disease, and a reduced risk of a variety of cancers including breast and prostate cancer.
Isoflavones
Phytoestrogens are part of a larger family of substances known as phytochemicals, or plant chemicals. In general, phytochemicals are produced by plants in order to thwart disease, drought and pests.
The most abundant category of phytoestrogens is isoflavones, a substance most predominantly found in soy. Soy beans, soy milk, natto, tempeh, miso, soy cheese, soy yogurt and soy flour are all great sources of isoflavones. These phytoestrogens are also found in smaller but notable amounts in kidney beans, garbanzo beans, peanuts, pistachios and alfalfa sprouts.
Lignans
Another category of phytoestrogens is lignans, found in many whole grains, nuts, seeds, legumes, fruit and vegetables. The highest dietary source of lignans is flaxseed. Sesame seeds, pistachios, chestnuts and pumpkin seeds are also good sources, and lignans are also found in a wide variety of plants, including whole grains such as rye, oats and barley, bran, berries, soy, tofu and hummus.
Coumestrol
Coumestrol is a phytoestrogen in the larger class of phytochemicals known coumestans. The estrogen activity of coumestrol is stronger compared to isoflavones, although the health significance of this is unclear. This phytoestrogen is found in mung bean sprouts and most other sprouts, flaxseed, soy nuts, dried apricots, black licorice, alfalfa sprouts, multigrain bread and green tea.
Resveratrol
Resveratrol is a phytoestrogen most notably found in grapes and red wine. Because of its anti-inflammatory and antioxidant properties, resveratrol has been identified as one of the reasons for heart health benefits associated with red wine.
In addition to potential cardiovascular benefits, this phytoestrogen may also protect against cancer, cognitive decline, and Alzheimer's disease — and promote longevity. In addition to its presence in red wine and grapes, resveratrol is also found in red and purple grape juice, peanuts and some berries, including blueberries, cranberries and bilberries.
Animal-Based Foods
Since animals produce sex hormones and also may be given hormones to promote growth or increase milk production, any animal-based food, such as milk, poultry, meat and fish, may contain the hormone estrogen.
Although in theory, consuming foods with animal estrogen can disrupt the function of other hormones that impact growth, development and fertility, the levels of estrogen in animal-based foods are substantially smaller than the hormones made in the human body.
In addition, some researchers conclude that the amounts of estrogen in animal-based foods is insignificant to human health. However, this topic remains an area of controversy.
Precautions
Although phytoestrogens have proven health benefits, they are also considered endocrine disruptors, which means in certain doses and in certain conditions they can have undesirable effects.
In other words, they act on many different body tissues, and can in some situations boost estrogen activity and at other times block estrogen activity. More research is needed to fully understand how phytoestrogens work, and to understand if high intakes — such as the amounts found in supplements — carry any health risks.
However, the phytoestrogens found in whole plant foods are unlikely to be a cause for concern. If you have questions on how phytoestrogens may impact your health, speak with your doctor or dietitian.
Reviewed by Kay Peck, MPH, RD
Is This an Emergency?
If you are experiencing serious medical symptoms, seek emergency treatment immediately.