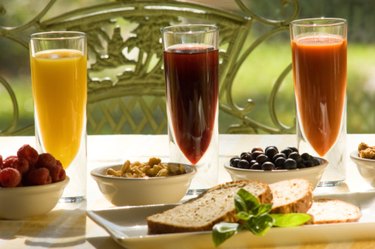 Fruit juice is a nutritious part of your daily diet that contains many essential vitamins, minerals and antioxidants and may reduce your risk for chronic diseases such as cardiovascular disease, cancer, type 2 diabetes, osteoporosis and kidney stones. Iron is a mineral that is part of hemoglobin, a molecule that transports and stores oxygen in the body, and part of an enzyme that synthesizes DNA. Some types of fruit juice contain iron.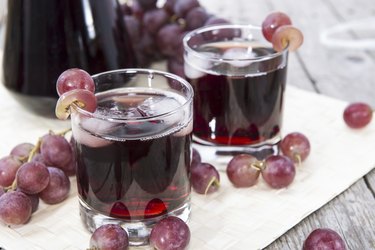 Grape juice is a sweet and refreshing drink that is loaded with nutrients. One cup of grape juice provides 152 calories and contains iron, potassium, manganese, calcium, magnesium, B vitamins and antioxidants including vitamin C, resveratrol, quercetin and phenolic acids. Research by R. Krikorian published in the "British Journal of Nutrition" in 2010 reports that Concord grape juice contains polyphenol compounds that have antioxidant and anti-inflammatory properties, and when part of a daily diet, may reduce blood pressure and risk of cardiovascular disease and dementia. Moreover, the research demonstrates that Concord grape juice enhances cognitive function in older adults with memory decline. Drink grape juice before, during or in between meals.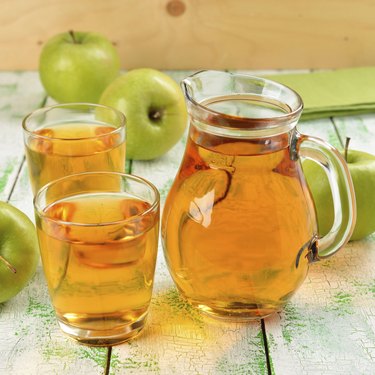 Apple juice is popular among people of all ages. One cup of apple juice provides 114 calories and is a good source of iron, calcium, magnesium, phosphorous, potassium, manganese, B vitamins and antioxidants, such as vitamin C, lutein, zeaxanthin and polyphenols. Research by Sylvain Auclair, published in the "Journal of Agricultural and Food Chemistry" in 2008, reports that apple polyphenols may help to prevent atherosclerosis disease by decreasing blood levels of uric acid. Apple juice may also reduce the risk of colon cancer in populations not living with obesity, according to research by Tatiana Koch published in "Molecular Nutrition and Food Research" in 2009.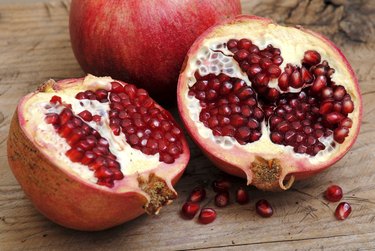 Pomegranate juice is a delicious drink that contains iron, potassium, calcium, magnesium, phosphorous, manganese, zinc, B vitamins and vitamin C. Compared with most other fruit juices, pomegranate juice has high levels of antioxidants, particularly polyphenols, that may reduce cholesterol and plaque in your arteries. Pomegranate juice may enhance sexual performance of males, according to research by C.P. Forest published in the "International Journal of Impotence Research" in 2007. This juice is very sweet and has a highly concentrated amount of sugars that may rapidly increase your blood-sugar levels if you have diabetes. Talk with your doctor about drinking pomegranate juice if you are taking any medications, since pomegranate juice may interfere with or potentiate the effects from the drug.