Nausea can be brought on by food poisoning, pregnancy or illness. When you feel nauseous, eating certain foods can prevent you from vomiting. If you don't feel like eating, start with fluids and move to solid foods as you begin to feel better. Once you have eaten, remain still for awhile to avoid aggravating your nausea. If your nausea persists, see a doctor to rule out a serious problem. Your doctor may also prescribe an anti-nausea medication to prevent dehydration.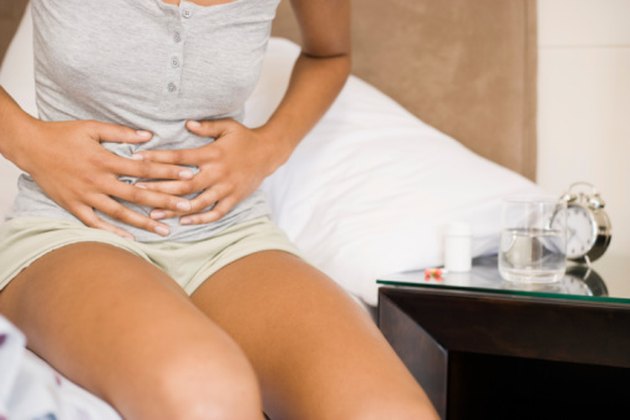 Liquids
Liquids such as water or broth can reduce the feelings of nausea that bring on vomiting. The Cleveland Clinic recommends ice-cold drinks as well. Those foods will settle your stomach and reduce your chance of becoming dehydrated. You can also try ginger ale, fruit juice or electrolyte fluids, such as Gatorade or Pedialyte. The sodium and potassium in electrolyte drinks help your body more quickly absorb the fluid, as well as giving you a little boost of energy. The Cleveland Clinic cautions that mixing hot and cold foods can make nausea worse and bring on vomiting -- so have one or the other, but not both at the same time.
Crackers
Bland foods, like saltine crackers, are easier to digest -- and keep down -- when you are nauseous. They'll also give you some nutrition and energy for recovery. If you don't have crackers on hand, try other bland foods like plain bread, dry toast, unsweetened cereal, rice or plain baked potatoes. The Cleveland Clinic recommends skipping solid foods, though, if you have already experienced a bout of vomiting and are trying to prevent it from happening again.
Bananas and Applesauce
Bananas and applesauce are both mild-tasting fruits that can help you feel less nauseous, which will keep you from having to vomit. If these foods help your symptoms, you can begin to add other foods after 48 hours, according to FamilyDoctor.org. You can try these two foods at room temperature or cold and see which works best for you. Combine them with other bland foods to boost your nutrition and give you strength as you fight off the nausea.