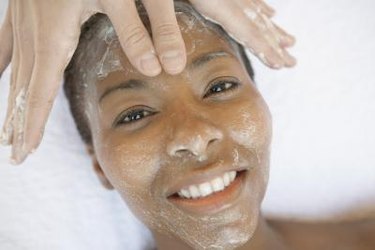 Rich in minerals and deeply cleansing, sea salt may seem the logical choice for scrubbing your face. But talk to your dermatologist before attempting any daily exfoliation, especially with sea salt. Most dermatologists advise against daily face scrubs, and sea salt is too harsh for most complexions. It may be best to save the sea salt for body scrubs, foot soaks and deep-cleaning baths.
Exfoliation Benefits
Exfoliation stimulates skin repair by removing the skin's outer layer and improving circulation. It may also improve the appearance of fine lines and wrinkles, and prevent acne by keeping dead skin cells from clogging pores. Removing the outer layer of skin also makes it easier for your skin to absorb and benefit from moisturizing products.
Frequency
In general, it's a bad idea to include any kind of facial scrub in your daily face care routine, notes the American Academy of Dermatology. The academy recommends that people with dry or damaged skin exfoliate no more than once a week, while those with oily skin should limit the process to twice a week. If your oily skin includes acne, skip the exfoliation step, or scrub just the pimple-free zones; exfoliation may make acne worse. If you have sensitive skin, avoid exfoliation.
Commercial Products
Over-the-counter options for exfoliation include face scrubs and products containing hydroxy acids. For some women, scrubs of any kind may be too harsh, causing redness and itching. Opt instead for products containing ingredients in the hydroxyl acid family, including salicylic acid and glycolic acid. The concentration of the active ingredients is gentle enough to use every day, and effectively remove dead skin cells. At higher concentrations, hydroxyl acids are used in professional chemical peel treatments.
Sea Salt Scrubs
Sea salt's disadvantages as a facial scrub include its drying, drawing properties and somewhat jagged texture. These properties may be ideal for scrubbing the thicker skin on your body, but will often irritate all but the hardiest complexions. Men, who have naturally thicker skin, and women with coarser complexions, may find facial sea salt exfoliants effective. Daniel Eastman's book "Face Fitness: A Man's Guide to Looking His Best" includes a face scrub for oily complexions which combines mango, oatmeal and sea salt. But even people who find sea salt face scrubs effective shouldn't use the exfoliant more than once or twice a week.
Homemade Solutions
Natural beauty author Dina Falconi suggests using sea salt for body scrubs and turning to more gentle natural products for your face. She recommends seeds and nuts for dry skin, grains and beans for oily skin, and selected herbs and botanicals for combination or normal skin. A mixed scrub for dry and damaged complexions, for example, might include fenugreek seeds, sunflower seeds, flax seeds, comfrey, chamomile and yogurt. Oily or acne-prone skin, on the other hand, benefits from an exfoliating mixture of oats, rice, rose petals, citrus peel, cloves, sage and witch hazel. For normal skin, combine grains, herbs, nuts, seeds and clay with water, yogurt or honey.