Bicycles are designed to position your body in the right posture and allow for efficient aerodynamic movement. If you feel pain or discomfort in your wrists, neck, back or knees, then it is likely that your body is being pulled out of alignment from an improperly fitted bike. The careful placement of your seat, center tube and handlebars can make the difference between a cramp in your back and an optimal ride.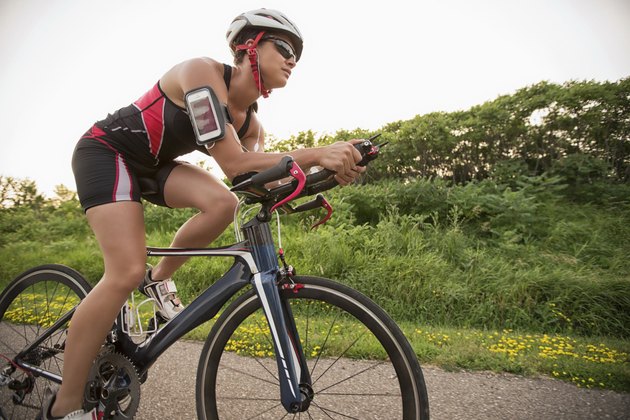 Step 1
Straddle your bike with both feet on the ground in front of the pedals. If you cannot do straddle the bike without making contact with the center tube, then the bike is likely too big for you. There should be approximately 1 inch between the bar and your body, for both men and women. Sloping tubes should have a 2-inch level of clearance. Wear your cycling shoes, if applicable, when testing the height of your bike.
Step 2
Look at the angle of your knee at the full extension on the downstroke; your knee should be bent only by 10 to 20 degrees. A straight or locked-out knee means that the seat is too high, and a knee bent more than 20 degrees is an indication that the seat is too low.
Step 3
Move the seat forward if your kneecap is behind your foot. Likewise, move the seat back if the knee is in front of the foot. The optimal position is for your kneecap to be stacked over the ball of your foot.
Step 4
Sit in the seat and place your hands on the handlebars. If your arms are straight, especially with locked-out elbows, then the stem is too long and should be adjusted. An improper stem length can greatly compromise your posture and may lead to pain and discomfort in your back, neck, shoulders and wrists. The reach to the handlebars and breaks should be comfortable and allow your back to be at a 45-degree angle.
Step 5
Check your form once the bike has been properly fitted. Pull your stomach in toward your lower back, elongate your torso, slide the shoulder blades down your upper back and keep your chest slightly lifted while riding.
Tip
Consider a different make and model if your bike doesn't feel right once it has been properly fitted. Slight changes from one manufacturer to the other can make a big difference in your comfort level.
Talk with a pro at your local bike shop if you are unable to properly fit your bike.
Warning
Consult with your physician before starting a cycling fitness program.