Advocare Spark Energy is an over-the-counter dietary supplement containing a blend of 21 vitamins, minerals and nutrients. The blend is designed to boost energy and mental focus in a nutritious and healthy way. Advocare Spark Energy is available in powder form to be mixed with water or another beverage between meals. It is important to speak with a doctor before taking dietary supplements.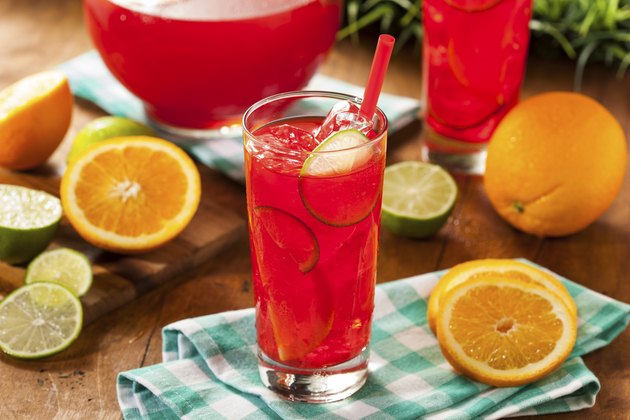 Key Ingredients
Advocare Spark Energy contains several other key ingredients which help boost energy or provide protection from free radicals by acting as antioxidants. These ingredients include the amino acids taurine and L-tyrosine and the neurotransmitter-related chemicals choline and GABA as well as citrus flavonoids and inositol. Taurine is a common ingredient in energy drinks as it supports the nervous system and may improve athletic performance or when combined with caffeine, improve mental function, according to MayoClinic.com. L-tyrosine is an important building block for several neurotransmitters that play a large role in influencing mood. Choline is a precursor to the neurotransmitter acetylcholine and GABA is a neurotransmitter, both of which play roles in controlling a variety of mental functions. The citrus flavonoids include phytochemicals such as rutin, hesperidin, quercetin and naringin which have antioxidant and anti-inflammatory properties. Inositol helps make cell membranes and is required by the body in small amounts, according to the National Cancer Institute.
Vitamins and Minerals
Advocare Spark Energy contains the mineral zinc and a variety of important vitamins. It provides high amounts of nearly all the B-complex vitamins which include vitamin B6 and B12, thiamine, riboflavin, niacin and pantothenic acid. Each serving provides 750 percent daily value of vitamin B6 and B12 and between 200 and 500 percent daily value for the remaining B-vitamins, according to Advocare. B-vitamins play a large role in converting the food we eat into energy as well as participating in a variety of other bodily functions. Advocare Spark Energy also contains 20 percent, 300 percent and 200 percent daily values of the vitamins A, C and E, respectively, and small amounts of the mineral zinc.
Caffeine
Each 8 oz. serving of Advocare Spark Energy contains 120 milligrams of caffeine or approximately the amount of caffeine provided by a single cup of brewed coffee, according to Advocare. Caffeine is a central nervous system stimulant that increases heart rate and raises blood pressure, among other effects. This can provide a temporary boost of energy and may help increase mental energy and focus, according to Advocare.