The Centers for Disease Control and Prevention estimates that 72 million adults in the United States could be considered obese based on of their Body Mass Index scores. One of the most important lifestyle choices to help prevent becoming part of this statistic, or to remove yourself from this statistic, is exercise. One way to help you lose weight is running, jogging or walking on a treadmill.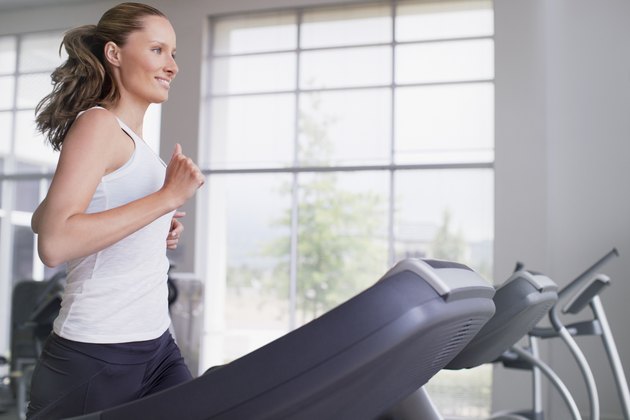 How a Treadmill Works
Treadmills are a piece of aerobic exercise equipment. Usually a small motor turns a track that allows you to run in place with almost the same feel and benefits as running, jogging or walking on a track or outdoors. As you increase the speed or the incline of the treadmill track, the intensity level of the aerobic exercise increases as well, resulting in more of an aerobic workout. This allows for easy customization to fit all fitness levels, ranging from basic walking to training for an event such as a marathon or triathlon.
Calories Burned
Treadmills cause you to lose weight by burning calories. The more calories burned in your session on the treadmill, the greater chance you have of losing pounds. The amount of calories burned varies widely depending on your gender, age and weight, and the level of intensity on the workout, such as the speed and incline. For example, the average 145-lb. person can burn an estimated 789 calories per hour on a treadmill set on a 10-percent incline at 5 mph, according to Livestrong.com's My Daily Plate.
Schedule
You do not have to exercise every day on a treadmill to lose weight. The American College of Sports Medicine and the American Heart Association recommend that an average adult get at least 150 minutes of moderately intense exercise every week to stay healthy. Moderately intense exercise on a treadmill consists of a light jog to a slow run, but can also include a brisk walking pace. For quicker weight loss, consider gradually increasing your time on the treadmill to 300 minutes a week, or about an hour a day, five days a week. This can be split up into three 20 minute sessions, or two 30-minute sessions throughout the day for the same results. Do not start or increase an exercise schedule without first consulting your doctor.
Healthy Diet
Exercising on a treadmill alone may help you lose weight, but combining exercise with a healthy diet can give you even better results. A healthy diet should be comprised of primarily fruits and vegetables along with whole grains, lean proteins, low-fat dairy and healthy fats, such as those from nuts, olive oil and fish. A healthy diet should also be portion-controlled, aiming to keep your calories within the specific calorie goals based on of your gender, height, weight and physical activity level. Calculate your calorie goal using Livestrong.com's "My Daily Plate" feature (see Resources).