Pressure in the eyes is a condition that can have serious consequences if left unattended. When eye pressure increases, ocular nerves can become damaged, leading to a loss of peripheral vision as well as the possibility of contracting glaucoma. Maintaining eye pressure in the normal range of 10 to 22 mm/Hg can be helped along by eating foods with nutrients that contribute to blood vessel and nerve health. Additionally, these foods can help to lower higher pressure as your eyes become saturated with the elements they need.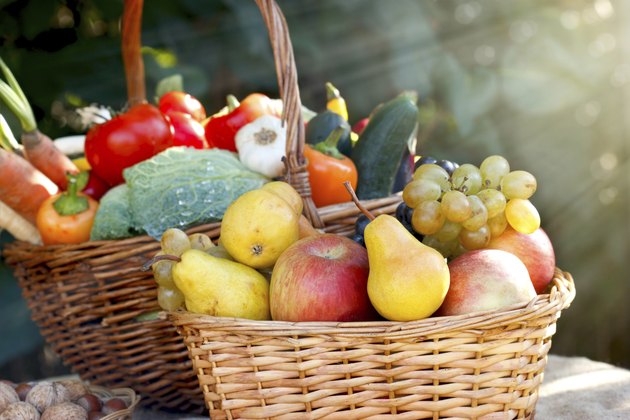 Foods With Vitamin C
According to Dr. Marc Grossman, OD, more than 25 percent of the vitamins and minerals found in nutritious foods are absorbed through the nerves, tissues and blood vessels that support our vision. One of the most essential nutrients is vitamin C, which has a higher concentration in the eyes than almost anywhere else in the body. Foods containing high doses of C are in the citrus family, such as oranges, nectarines, grapefruits, lemons and limes. Other fruits include kiwi, strawberries, raspberries, guava, peaches, lychees and mangoes. Vegetables with vitamin C include red peppers, broccoli, Brussels sprouts, kale and green cabbage.
Foods with Zinc, Vitamin A and Vitamin B
These vitamins are helpful in maintaining healthy eyes while also doing their part to prevent and reduce pressure. Often the lack of one vitamin will affect the body's ability to use the other, so make sure you are eating foods that have all three. Foods high in zinc includes shellfish, wheat germ, bran, pine nuts, pecans, fish and eggs. Vitamin A-rich food includes carrots, mangoes, cantaloupe, dried apricots, sweet potatoes, spinach, egg yolks, mozzarella cheese, milk and liver. The B vitamins are found in a variety of foods that include bananas, avocados, potatoes, legumes, Brazil nuts, tuna fish, turkey and liver.
Foods With Omega-3 Fatty Acids
Foods that are rich in omega-3's are especially helpful in assisting with lowered eye pressure as they contain antioxidants and bioflavenoids that help reduce the risk of eye disease. According to an article in U.S. News and World Report based on research done at the University of Melbourne, omega-3-rich foods help with eye health by enriching nerve cells in the retina. Foods rich in omega-3's include fish, flaxseeds, cod liver oil, walnuts, soybeans and raw tofu.
Foods With Lutein
Lutein is another essential nutrient for keeping eye pressure down. Eating plenty of carrots, corn, kale, spinach, Swiss chard, collard and mustard greens, red peppers, parsley, dill, tomatoes, potatoes, berries, apples and plums will help you get a good share of lutein.