Diet is one of the most important factors in maintaining good overall health. Eating a balanced diet rich in fruits, vegetables, lean proteins, healthy fats, whole grains, nuts and legumes provides you with the nutrients required for optimal energy levels, a strong immune system and healthy internal organs. In addition, consuming the right foods can help protect you from a plethora of the most common chronic diseases, including heart disease, stroke and Type 2 diabetes, as well as obesity, which is a major risk factor for disease.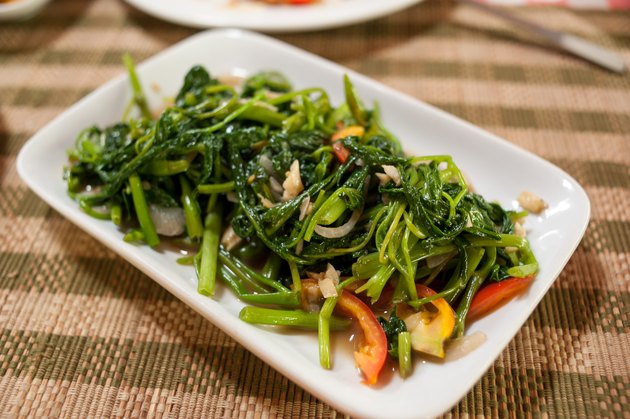 Plenty of Fruits and Vegetables
The 2010 Dietary Guidelines for Americans recommends that all Americans increase fruit and vegetable intake. Plant foods provide a variety of vital nutrients and antioxidant compounds. The Centers for Disease Control and Prevention notes that the fiber, vitamins and minerals in fruits and vegetables are important for good health as well as the avoidance of chronic diseases, including cancer. Aim to eat about three to five servings of vegetables and two to three servings of fruit each day.
Protein for Repair
The body requires protein to repair itself, maintain normal functions and create new cells. The 2010 Dietary Guidelines for Americans recommends consuming a variety of protein-rich foods, such as soy foods, fish, poultry, eggs and unsalted nuts. Low-fat dairy foods are also both good sources of protein and rich in calcium -- a mineral that is required for bone health. Protein-rich foods are often high in important vitamins and minerals, especially B vitamins, vitamin E, iron, magnesium and zinc. While protein in the diet is necessary to stay healthy, MedlinePlus notes that too much protein can raise cholesterol levels and strain the kidneys. According to the CDC, between 10 and 35 percent of your daily calories should come from protein.
Healthy Fats
All seafood are good sources of protein, and many fish are also high in important fats, known as omega-3 fatty acids. The 2010 Dietary Guidelines for Americans recommends that Americans increase seafood intake by replacing some of the meat and poultry in their diets. Omega-3 fatty acids help build cell membranes in the brain and protect against a variety of inflammatory diseases and cancer. Two important types of omega-3 fats, known as EPA -- eicosapentaenoic acid -- and DHA -- docosahexaenoic acid, are found in high quantities in certain types of fish, including salmon, trout, shellfish, tuna and oysters. In addition to omega-3s, many other types of foods contain healthy, unsaturated fats. Examples include avocado, flaxseed, nuts, olive oil, canola oil and other vegetable oils. Based on a 2,000-calorie diet, the 2010 Dietary Guidelines for Americans recommends two to three servings of fats and oils per day.
Nuts, Grains and Legumes
Nuts are not only a good source of protein but they also contain healthy unsaturated fats and a variety of additional health-promoting substances. According to a 2010 paper published in "Nutrients," the unique composition of nuts makes them useful in preventing coronary heart disease and diabetes in both men and women. Legumes are an important part of a healthy diet because they are rich in soluble fiber, a type of fiber associated with a decreased risk for heart disease, notes a study published in 2001 in "Archives of Internal Medicine." According to a 2008 article published in "Nutrition Reviews," a high intake of whole grains is associated with a reduced risk of obesity as well as smaller waist circumference.