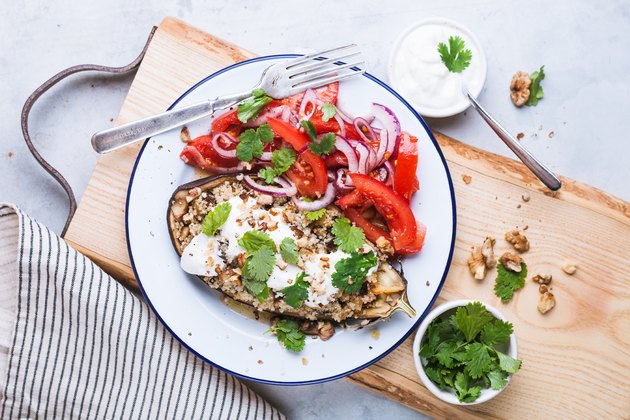 Seafood-based animal proteins like salmon and sardines, along with other foods high in omega-3 fatty acids like walnuts and avocados, are emphasized over red meat, eggs and dairy.
What Is the Mediterranean Diet?
Tufts Health & Nutrition Newsletter explains, "The residents of Crete enjoyed the best cardiovascular health, a difference scientists largely ascribed to their diet — based on fruits and vegetables, grains, legumes and fish," despite the Cretans having dietary restrictions due to the war. In contrast, the group of American men who were studied, and hadn't had as many dietary restrictions, were the most at-risk for heart disease.
Based on this newfound knowledge, researchers discovered that the Cretan diet — which has come to be known as the Mediterranean Diet — is not only low in saturated fat, it can lower "high blood pressure, the risk for cancer and obesity along with other chronic diseases that tend to affect American eaters."
What Can You Eat on the Mediterranean Diet?
Think this is a free pass to guzzle wine and eat as much pasta and cheese as you want? Not so fast. According to the American Heart Association, your diet should focus on fruits, vegetables, grains, potatoes, beans, nuts and seeds. Use and cook with olive oil, which is an important source of monounsaturated fat. Eat fish and poultry in low to moderate amounts and eat very little red meat. Consume eggs and wine in low to moderate amounts (zero to four times a week).
Ready to give it a try? From snacks to lunches and dinners, here are 10 Mediterranean diet recipes that fit within the Mediterranean diet guidelines to get you on your way. No plane ticket required.
1. Roasted Beet Hummus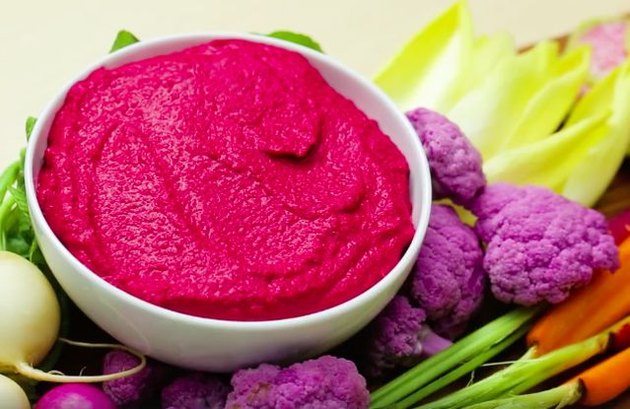 While some diets may tout benefits like losing weight or increasing energy levels, the Mediterranean diet has been shown to have some pretty powerful effects when it comes to longterm health. LeeAnn Weintraub, MPH, RD says that following this lifestyle may "help with reducing the risk of cancer, Alzheimer's disease and Parkinson's disease."
While chickpeas by themselves are good for you and have a slew of benefits like being high in protein, a great source of fiber, low in fat and full of antioxidants, this Mediterranean snack recipe gets a superfood upgrade thanks to a half cup of raw beets. Nutrient-dense, beets have also become popular with runners and bodybuilders thanks to their high-nitrate count that may contribute to a better athletic performance.
To make this dip (and your health) even better, add it to your favorite sandwiches as a spread like on this avocado toast. Your taste buds and your body will thank you.
2. Shaved Carrot and Cucumber Salad
3. Rosemary and Olive Oil Almonds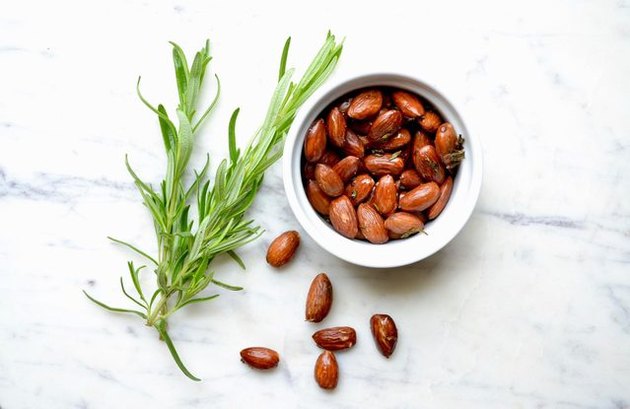 The beauty of this crunchy, salty snack recipe: You can make a bunch of it ahead of time and feel good knowing that there's a healthy, Mediterranean diet-approved snack waiting for you in your pantry.
Almonds provide the same type of beneficial fat as olive oil but they are also a good source of plant-based protein to help curb mid-day hunger pangs, and are a good source of vitamin E. This vitamin, according to University Health News, is "essential for the nervous, cardiovascular, reproductive, musculoskeletal and other systems to work properly."
4. Walnut Ricotta Avocado Toast on Almond Bread
5. Prosciutto Mozzarella Avocado Toast on Cauliflower Bread
6. Spinach and Feta Avocado Toast on Keto Bread
7. Vegan Creamy Roasted Red Pepper Soup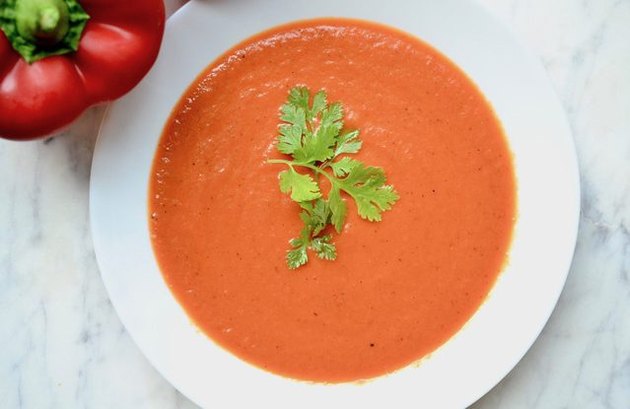 Red peppers are loaded with essential vitamins that support health and immunity like vitamin C and are higher in vitamin A (essential for healthy eyesight) than their green, orange, and yellow pepper counterparts. Lycopene, a specific type of antioxidant that gives fruit and vegetables their deep red color, has been shown to helps fight damage caused by free radicals.
And lucky for soup fanatics, this soup recipes calls for both red peppers and tomatoes. It's also low in fat and calories so you can eat this for lunch, dinner or as a mid-day snack, totally guilt-free.
Weintraub cautions getting caught up in fad diets but sees the Mediterranean diet as something different. "I think folks get caught up in fad diets like Keto, Paleo and low-carb, and I see the Mediterranean diet as being more balanced, sustainable and backed by science."
8. Mediterranean Zoodles With Creamy Feta Dressing
9. Arugula Salad with Salmon and Avocado
10. Grilled Italian Eggplant Caprese Salad
This salad, aptly called the Caprese, originated in Capri, Italy. Regardless of its origin, this recipe is firmly planted in the Mediterranean diet thanks to the mix of in-season tomatoes, grilled eggplant, balls of mozzarella and olive oil.
Often overlooked, eggplant is a versatile veggie you can add to your diet as a part of this healthy lifestyle. The purple-colored vegetable, according to according to Medical News Today, has been shown to promote heart health, lower blood cholesterol levels, have anti-cancer effects and antioxidant properties that "that protects brain cell membranes from free radical damage."
The key takeaways of the Mediterranean diet, according to Weintraub: "Eat more vegetables, focus on lean proteins and don't be afraid of using some healthy fats." And as they say in Italy, "Buon appetito!"