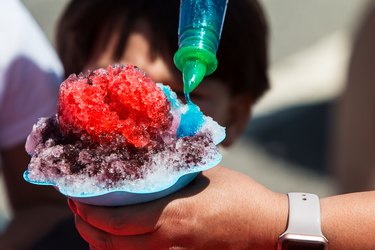 When it's a hot day and you want something refreshing, it can be tempting to reach for a sugary snow cone. Although the cup of shaved ice can be hydrating, the flavored syrup on top has little nutritive value.
The nutritional content of snow cone syrup varies depending on the manufacturer. Two brands on the market, Ralph's Snoball Supply Inc. and Hawaiian Shaved Ice, list a serving as 1 fluid ounce. The nutrition in that 1-ounce serving is marginally different.
One ounce of Hawaiian Shaved Ice contains:
​​Calories​:​ 85
​​Total fat​:​ 0 g

​Saturated fat​:​ 0 g
​ ​Trans fat​:​ 0 g

​​Cholesterol​:​ 0 mg
​​Sodium​:​ 0 g
​​Total carbs​:​ 22 g

​ ​Dietary fiber​:​ 0 g
​ ​Sugar​:​ 22 g

​​Protein​:​ 0 g
One ounce of Ralph's Snowball Supply syrup contains:
​Calories​:​ 66 g
​​Total fat​:​ 0 g

​Saturated fat​:​ 0 g
​ ​Trans fat​:​ 0 g

​​Cholesterol​:​ 0 mg
​​Sodium​:​ 0 g
​​Total carbs​:​ 18 g

​ ​Dietary fiber​:​ 0 g
​ ​Sugar​:​ 18 g

​​Protein​:​ 0 g
The important takeaway here is that a snow cone is pure sugar.
"It doesn't have nutritional value, so it's not a healthy snack you want to choose on a regular basis," says dietitian Cameron Currie, RD. Snow cones can serve as an occasional treat for people who are looking for something cool and refreshing on a hot day.
Other frozen options could include frozen yogurt or a 100 percent fruit juice popsicle. While both contain sugar, they also provide some nutrients.
Just as the nutrients vary from brand to brand, so will the ingredients. Hawaiian Shaved Ice is made from water, high-fructose corn syrup, citric acid, sodium benzoate, and natural and artificial flavors.
On the other hand, Ralph's Snoball Supply Inc. makes its syrup from cane sugar, which it describes as the "safest sweetener." But don't fall for the marketing that cane sugar makes snow cones more nutritious somehow.
"To say one is healthier or better is not really the right terminology," Currie says. "If your goal is to eat something more natural, in some ways you can argue cane sugar is a little more natural. But they're both processed, and both are forms of added sugar."
High-fructose corn syrup can cause gastrointestinal upset in people who have fructose intolerance, she says. Plus, snow cone syrups often have artificial coloring. "It's better to find icy treats that don't have those artificial dyes," Currie says.
You can make a more nutritious snow cone at home with these smart swaps and ideas. All you need is some shaved ice and a few flavoring options:
Pour freshly squeezed orange juice over shaved ice.
Sprinkle a fruit-flavored gelatin mix over your ice for a lower-calorie alternative.
Blend low-calorie fruit or berries, such as strawberries, and use the puree as a syrup.