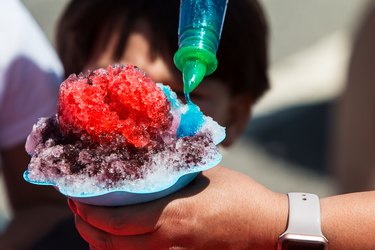 Because a snow cone is simply a cup of flavored shaved ice, you may think that it's a dieter's delight because it is mostly ice. However, the syrupy topping is flavored sugar water, and the calories add up quickly.
Calories
Two fluid ounces of snow cone syrup contains 70 calories with no fat and no protein, according to MyPlate. Total carbohydrate content is 19 g with 18 g of sugar per snow cone. There is no nutrition in a commercially bought snow cone.
Sugar
Women should consume fewer than 100 calories per day from sugar from any source; it's 150 calories a day for most men. This is about 6 tsp. for women, 9 tsp. for men, although MayoClinic.com suggests less is better. One snow cone with 2 oz. of syrup contains 41 percent of the maximum daily amount of sugar for women and 27 percent for men.
Healthy Alternative
Make your own snow cone topping by pouring thawed, undiluted orange juice concentrate over shaved ice, suggests Cooks.com. Another lower-calorie alternative is to sprinkle a fruit-flavored gelatin mix over your ice. For a healthy snow cone, blend low-calorie fruit or berries, such as strawberries, and use the puree as a syrup.
More About MyPlate
The free LIVESTRONG MyPlate calorie tracker app for iPhone and Android has helped millions of people lose weight the healthy way -- by getting support from an active community as they track their eating and exercise. Consistently a top-rated app, MyPlate offers the latest technology in an easy-to-use tool that includes millions of foods and recipes, 5-minute in-app workouts and a robust support community.