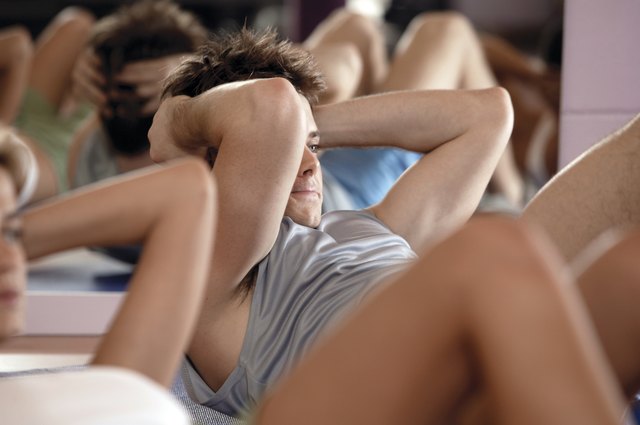 Feeling the burn during your workout is a normal sensation, especially when executing abdominal exercises. Whenever you work certain muscle groups, you may experience burning. However, sharp pain in the stomach during your workout is not normal. Determining what is causing your workout abdominal pain is the first important step to ensuring proper treatment.
Dehydration
Intake of fluids is a main factor in ensuring a healthy workout. As you exercise, sweat forms on your skin as a natural defense mechanism to prevent your body from overheating. Without sufficient fluid intake, you experience dehydration, which causes your abdomen to become tender and painful as muscles contract, according to Herman Weinberg's "Moving with Skill, Step 2." Schedule frequent breaks to replace fluids during your workout.
Heat
Outdoor activity is more popular during warmer months, especially during the summer. With this increased activity comes the risk of heat exhaustion. Weinberg says that heat and humidity cause your body to work overtime during exercise. As your body works harder in these conditions, your core temperature rises drastically. The outcome is weakness, abdominal pain, dehydration and in some cases death. Always dress in light clothing, carry plenty of water and spend shorter amounts of time in the sun. Avoid extreme heat and opt for indoor exercise on these days.
Strained Muscles
Exercise works your major muscle groups, leaving you susceptible to muscle strain in the event of overexertion. Cramps are also a muscle problem for athletes who run or lift weights on a regular basis. Cramps occur due to lack of oxygen through heavy breathing, according to SportsMed Web. Heavy breathing limits the amount of oxygen taken into your lungs, also limiting the oxygen that your muscles require during exercise. Practice proper breathing through inhale and exhale while performing any workout.
Tissue Breakdown
Tissue breakdown is another culprit in the exercise-induced abdominal pain problem, although you typically would not feel this type of pain until after the workout is over. Tissue breakdown occurs when a rupture in tissue cell membranes allows fluid to enter the muscle fibers, causing pain and inflammation. This damage produces a condition known as delayed-onset muscle soreness. Treatments for this condition include massage, vitamin C intake and rest.