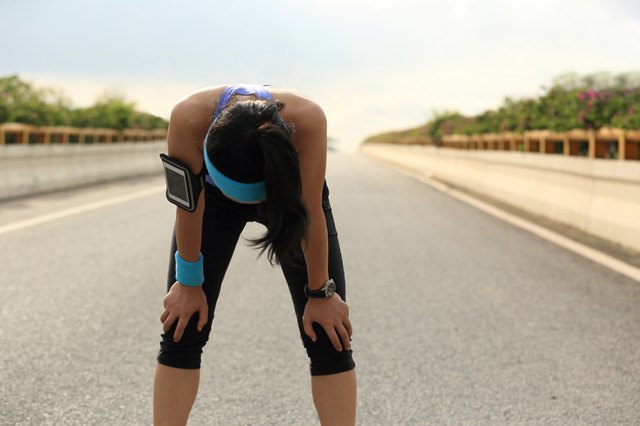 People run for a variety of reasons. For some it's the allure of competition, while others hope to lose weight, improve cardiovascular health, relieve mental stress, or have a stronger, better-looking pair of legs. Most types of pain and discomfort that runners experience is, not surprisingly, the result of a knee or leg problem. Your trunk, however, is important in stabilizing your posture as you move along, and pain on the lower right or left side of your body during or after a run is not unusual.
Side Stitch
A very common cause of pain in the lower right or left side after running is the side stitch. This strikes at any time during a run and even after you stop. It may be sharp and stabbing, or dull. The causes are not well understood. You're more likely to incur a side stitch, however, after you drink overly sugary beverages. Exercise scientists believe that the development of a side stitch involves an interrupted blood supply to the diaphragm and the abdominal muscles. In general, more fit runners have a lower incidence of side stitches.
Sports Hernia
A sports hernia is not a true abdominal hernia in that it doesn't involve a loop of intestine protruding through the abdominal wall. Many of the symptoms of a sports hernia, however, such as groin, hip or side pain, resemble those of a typical hernia. Pain results from the tearing of the fibers of the adductor muscles when you accelerate from rest or do side-to-side running. It usually develops over time rather than as a result of traumatic injury. If the pain involves your left inner thigh as well as your lower left side, have your doctor evaluate you for a sports hernia, which may require surgical repair.
Gastrointestinal and Gynecological Pain
A number of pelvic and intestinal problems cause pain on one or both sides. If you're female, gynecological conditions and disturbances such as menstrual cramps, endometriosis, cysts in the uterus and urinary tract infections can all cause left-sided pain. Alternatively, gas, bloating and other gastrointestinal woes often mimic muscle cramps. The best way to avoid these symptoms is to stay well-hydrated and avoid drinks containing a high concentration of sugar -- sports drinks are usually okay in this respect.
Iliotibial Band Syndrome
The iliotibial band, or ITB, is a band of tissue that courses from your hip to the outside of your knee. Sharp, even incapacitating pain, especially after a run on uneven surfaces, up and down a lot of hills, or in circles, is a reliable sign of iliotibial band syndrome. You may feel pain on the outside of your knee, but it can shoot up to the top of your hip and lower side as well. If you run a lot of hilly courses or often run the same direction on a track, you may have an ITB issue.
Abdominal Muscle Soreness
Your abdominal muscles not only help you maintain ideal running posture, they also help with your running mechanics. The rectus abdominis -- the large, vertical stomach muscle -- engages to help you lift your legs with each running stride, and the obliques -- the muscles on either side of your abdomen -- allow your body to rotate around the spine with each stride. Pain in the lower left side can be from abdominal muscle fatigue or cramping, especially with novice runners who's systems haven't yet adapted to the consistent muscle use. More experienced runners might experience overuse injury of these muscles.