Weight-gain products may impress with their promises of large muscles and a beefy, bodybuilding body. But these supplements are generally a waste of money; you can get all the protein and calories you need for weight gain from eating mostly whole foods.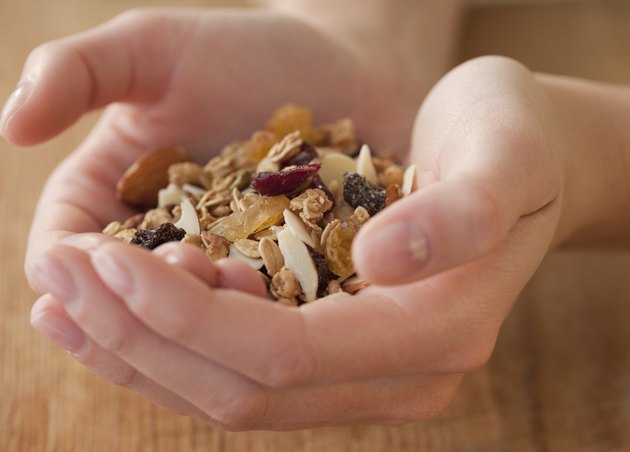 An underweight teen who's been told he should gain weight to improve his health should take any supplement recommended by his doctor. But, if you're looking to build muscle mass to improve sports performance or just feel better about yourself, put in effort at the gym and take in the calories naturally to build the best body you can.
Weight Gain Basics for Teens
Teens, like anyone, gain weight when they consume more calories than they burn daily. You may have a high metabolism and/or an active sports practice schedule that keeps you slim, or, you may be developing later than other kids in your class. Girls hit puberty around age 12 and guys around age 14. Until this time, you don't come into a fuller height and muscle development. Some people don't reach full growth for three or four years after the onset of puberty, and others are "late bloomers" and may just need to wait a bit longer to fill out. Weight gain supplements won't help you reach puberty faster and won't augment weight training to add muscle if your body isn't ready for it.
To gain healthy muscle mass, you only need 250 to 500 extra calories per day, which enables you to put on about 1/2 to 1 pound per week. You can easily get this number of calories from whole foods. For example, add 100 calories at each meal -- say an egg at breakfast, a glass of milk with lunch and an extra 1/2 cup of brown rice with dinner -- and you've already increased your daily intake by 300 calories.
Weight Training for Weight Gain
Lifting weights can help you gain muscle mass to support sports performance and achieve a healthier, fitter look. If your doctor gives the OK for you to weight train, do at least two workouts per week that address all of the major muscle groups. Go for four to eight repetitions of each exercise and work up to as many as six sets total.
Post-workout is a natural time to reach for a supplement, but many protein shakes and recovery drinks contain additives, extra sugar and excessive protein. You want about 20 grams of protein to help you repair muscle tissue and recover so you're fresh for your next workout, but many weight-gain supplements contain 40 grams or more per serving. Stick to a natural post-workout supplement such as a smoothie made with whey protein, fruit and yogurt; a turkey sandwich with lettuce and tomato on whole-grain bread; or Greek yogurt mixed with granola and dried fruit.
Trouble Getting Calories From Whole Foods
If you have a small appetite or your schedule doesn't permit regular whole-food snacks, talk to your doctor or dietitian about incorporating an instant breakfast drink or a nutritional meal-replacement drink as an occasional snack. If you go for something prepackaged, look for one that's low in sugar, a moderate source of protein, and a good source of several vitamins and minerals. Avoid prepackaged drinks marketed to weight-lifters and bodybuilders. These may contain chemicals and compounds that are inappropriate for you, and they won't offer any additional benefits.
Before you take any pre-packaged drink, reach for any whole-food options that are available. Consider mixing up a smoothie in the morning with fresh fruit and milk to drink later in the day or mixing whole milk with dried milk powder and packing it to go, for example. Other quick-and-easy weight-gain snacks include nuts, trail mix, seeds or even date and nut bars. Pack these in a baggie in your backpack or gym bag when you're on the go.
Realistic Body Weight Expectations
Certain body types aren't designed to carry copious amounts of muscle. If you're naturally lean and lanky, no weight gain supplement is going to turn you into a linebacker. Plus, if you haven't yet reached puberty, a weight gain supplement won't produce larger muscles. Weight training can improve the appearance of a young teen's muscles and strength but not their size until adequate amounts of hormones are present.
Focus on making your body the healthiest it can be, which may include gaining weight using whole foods and extra protein. Also focus on hydration, adequate sleep and appropriate exercise.