You may think quail eggs only have value as a garnish as they're so tiny, but they're actually filled with nutrients. In fact, a serving of quail eggs actually has much more vitamin B2 and iron compared to chicken eggs. Quail egg calories and protein content are similar to those of chicken eggs per serving, making them a healthy food that you can integrate into your diet in many different ways.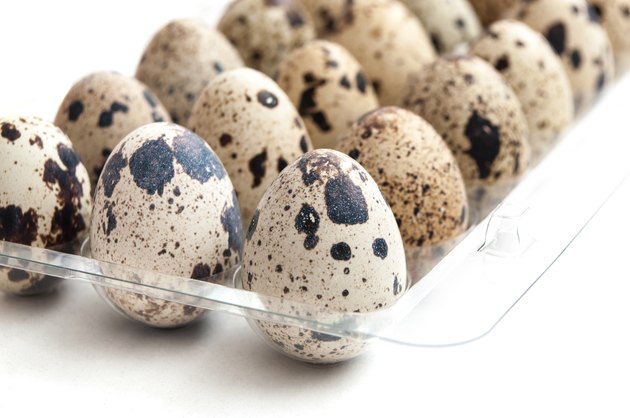 Quail Egg Nutrition
Quail eggs have a variety of vitamins and minerals and are high in cholesterol. In each serving (which is roughly five quail eggs or 50 grams), you can usually find a variety of vitamins:
Vitamin A: 5.5 percent of the daily value (DV)

Vitamin B2 (or riboflavin): 23 percent of the DV

Vitamin B5 (pantothenic acid): 9 percent of the DV

Vitamin B9 (or folate): 8 percent of the DV

Vitamin B12: 9 percent of the DV
You can also find small amounts of B vitamins like vitamin B1 (thiamin), B3 (niacin) and B6 and vitamin E in each serving.
Each serving of quail eggs also has several minerals:
Iron: 10 percent of the DV

Phosphorus: 12.5 percent of the DV

Zinc: 5 percent of the DV

Selenium: 23 percent of the DV
You can also find small amounts of calcium, magnesium, potassium, copper and manganese in each serving. Quail eggs also contain healthy essential fatty acids, like omega-3 and omega-6. Each serving of quail eggs provides you with 13 percent of your DV for protein.
Despite the high protein content and variety of nutrients, quail egg calories are fairly low. In each serving of quail eggs, calories equal just 4 percent of the daily value if you follow a 2,000-calorie diet (79 calories). Like all animal products, nutritional values can vary. The types of grains and seeds that quails consume as feed can influence the nutrition of both their eggs and meat.
Consumption of Quail Eggs
As tiny pheasant-type birds, quails have traditionally been considered a delicacy. However, their popularity as a meat has increased in recent years, which has resulted in quail eggs also being more commonly consumed. Although the small size of the eggs makes them fiddly and challenging to cook compared to other egg varieties, quail eggs can be more sustainable to produce than chicken eggs.
Quail eggs are consumed around the world, but in Western cuisines, they're rarely used as more than a garnish. However, these eggs are popularly consumed in Asian countries in a variety of forms like boiled, baked, pickled and grilled. They can be cooked in the same ways that chicken eggs are by integrating them into stews or curries, like Kada Mutta, or simply made into tiny Scotch or deviled eggs.
Quail Eggs Benefits
Their consumption is thought to be beneficial for cognition and the nervous, immune and digestive systems. They're also thought to help with the removal of toxins and various types of stones, like kidney, liver and gallbladder stones. Quail eggs benefits include counteracting anemia as they can increase hemoglobin in the blood.
Quail Eggs vs. Other Eggs