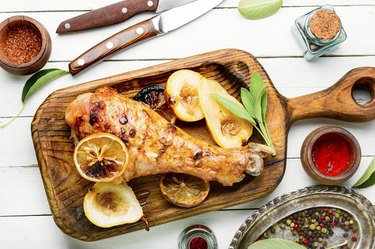 Roast turkey legs are perfect for a small scale holiday dinner for two. Turkey legs have the traditional holiday flavor, but are less work to prepare than an entire turkey. Cook just the drumsticks, or use the entire leg, drumstick and thigh.
A raw turkey leg, skin and meat, has 144 calories per 100 grams, which is roughly a 3 1/2-ounce serving.
Roasted, each 100 grams measured after cooking, has 170 calories, meat and skin.
If you remove the skin, a 100-gram serving has 159 calories.
Turkey legs are an excellent source of protein, with 28 grams per leg. The USDA lists the recommended daily intake of protein for women at 46 grams per day and 56 grams for men.
There are no recommended intakes for fat, but it's recommended that you no more than 25 to 35 percent of your daily calories come from fat, and no more than 7 percent of those should be from trans fats, according to the American Heart Association. One turkey leg contains 5.4 grams of fat according to the USDA Nutrient Database.
Turkey legs can be roasted, braised, smoked, barbecued or stewed. None of these methods increases the calories per serving, unless you add additional fat or use high-calorie condiments as you cook the legs.
You can prepare braised or stewed turkey legs ahead of time so that you have time to cool the cooking liquid and remove the fat once it has hardened.