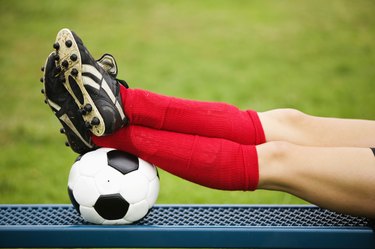 Don't lace up just any gym shoe for your sport of choice, the soles of athletic shoes offer sport-specific functions that can help improve your performance. Main technical and style features include differences in traction, flexibility, weight and even removable components.
Hiking Shoes
The soles of hiking shoes are made to tackle rocky terrain and have different levels of stiffness. Usually made of rubber, soles vary by the patterns and depth of the lugs, which are the indentations in the bottom of the sole that offer more secure footing on rugged surfaces. Very deep lugs allow for the most traction and more shallow or widely spaced lugs offer less grip. You may also find a raised heel sole, called a heel break. This is intended to reduce your chance of sliding when hiking on steep descents. Hiking shoe soles are typically the most sturdy and inflexible of athletic shoe soles, but offer maximum shock absorption.
Basketball Shoes
The soles of basketball shoes are moderately flat and made of rubber. Most are wider and have a herringbone pattern etched in to improve stability and traction for quick pivots, starts and stops. Soles on indoor basketball shoes are often made of thinner rubber, in order to make them more lightweight for faster movement, while outdoor soles are thicker to be more durable. Basketball shoe soles typically offer maximum shock absorption and moderate flexibility compared to other types of athletic shoe soles.
Soccer Cleats
The soles of soccer cleats have studs to improve traction when running on grassy fields. These studs may be molded onto the shoe as a fixed part of the sole or they may be detachable. The studs are typically made of three materials -- plastic, rubber or metal. Some leagues ban metal tips, so be sure to check with your team's guidelines. There are three types of studs: conical studs, which provide more stability; bladed studs, which can give more traction and speed; and hard-ground studs for firmer surfaces. Soccer shoe soles offer moderate flexibility and shock absorption.
Running Shoes
The minimalist running shoe sole is a new trend in the sport. The rubber on minimalist soles may be as thin as 3 mm and is extremely flexible. Proponents of minimalist running shoe soles say that the increased flexibility of these soles allows for a more natural heelstrike, but offer the least cushioning and impact absorption. Minimalist shoe soles also come in slightly thicker rubber sole for road running, but the sole is still much more flexible and lightweight as compared to traditional running shoe soles and offers more absorption. Finally, trail-running shoe soles offer a much thicker and more rugged sole for additional underfoot protection and maximum impact absorption.
Tennis Shoes
The soles of tennis shoes have a smoother, flatter surface compared to the soles of other athletic shoes and offer minimal absorption impact compared to basketball or hiking shoes. The soles of these shoes vary based on the type of court on which they are intended to be worn. Those made for concrete courts have the thickest sole and a uniform, herringbone pattern on the sole for traction during forward, backward and lateral movements. Shoes for clay courts are often lightweight and not as durable as those made for concrete courts and may feature a more shallow herringbone pattern. Finally, shoes made for indoor courts are the most lightweight and flexible. They have the smoothest sole so that they won't stick to the floor during lateral movements or damage or leave marks on the court.
Golf Shoes
Golf shoe soles golf shoe soles have minimal shock absorption and flexibility as compared to basketball or traditional gym shoes. They are available with metal spikes, soft spikes or spikeless. Metal spikes are typically removable and improve stability and traction on wet or irregular terrain. These types of spiked soles are often banned for everyone but professional golfers as they can damage course greens. Soft spikes can also detach from the soles and offer moderate traction. Spikeless golf shoes have built-in rubber nubs on the shoe soles and are not detachable. They offer slightly more traction than street shoes.