Mononucleosis is an illness caused by the Epstein-Barr virus. Mononucleosis is referred to as the kissing disease because it can spread easily, especially through close personal contact. Mononucleosis has flu-like symptoms and can make you feel very ill. If you exercise regularly or are an athlete, you may wish to continue your normal exercise routine even though you are not feeling well.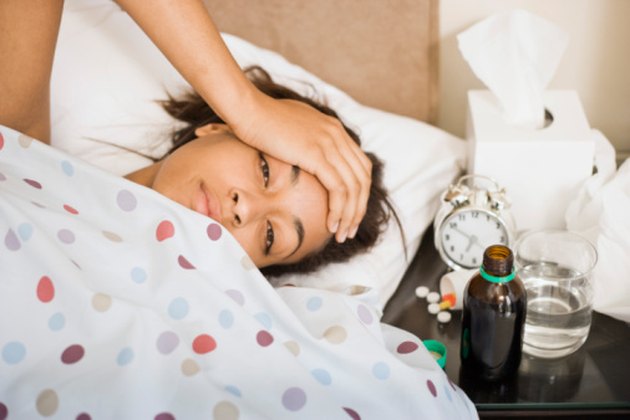 Symptoms of Mononucleosis
When you first contract mononucleosis, you may feel like you are coming down with a really bad cold or flu. Symptoms start off with weakness, rash, enlarged spleen, headache, swollen glands, night sweats, sore throat and a high fever. If symptoms remain or worsen after a couple of days, you should see your doctor for an affirmative diagnosis. One of the most prominent symptoms of mononucleosis is extreme fatigue. It isn't uncommon to sleep for several hours straight when you have mononucleosis. Extreme fatigue can make it impossible to exercise, especially when you are really sick.
Exercise Effects
If you only have slight side effects with your mononucleosis, you may be able to engage in physical activity. It is important to take it slow, especially if you are still recovering. While you should get 30 minutes of exercise up to five days a week, if you have had mononucleosis symptoms, you should start off slowly until you regain strength. Exercise in small amounts throughout the day may be able to boost your immunity and help with the overall recovery process.
Prevention
Exercise may be able to keep you from contracting mononucleosis, particularly if someone close to you has it. Incorporate a mixture of aerobic activity and stretch exercises along with strength training in order to get the most out of your workout. Some of the benefits of getting regular exercise to prevent mono include improving energy levels, relieving stress and boosting your metabolism. If you are in good shape both physically and mentally, your immune system stays healthy and you may ward off mononucleosis.
Warning Signs
When you get mononucleosis, your spleen can be affected and become enlarged. This puts you at a greater risk for rupturing your spleen, which can be a serious medical issue. You should avoid strenuous exercise, physical activities and contact sports such as football and soccer. Your immune system may be compromised, which could lead to dehydration and exhaustion if you overwork your body.