You know how you feel when you exercise regularly — more energized, healthier and perhaps happier. There's no doubt that regular exercise is good for you. It helps with weight management and disease prevention, it brightens your mood and it boosts your immune system.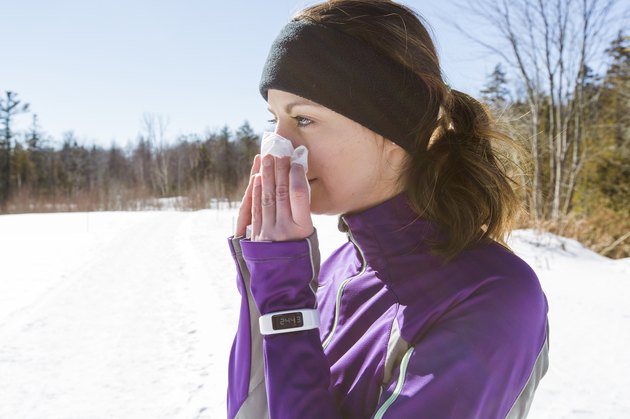 A 2010 study published in British Journal of Sports Medicine followed 1,000 adults in the fall and winter months, monitoring exercise habits and upper respiratory tract symptoms and severity. At the end of 12 weeks, people who did aerobic exercise five or more days per week experienced 43 percent fewer days with upper respiratory symptoms than sedentary subjects. When they did experience symptoms, they were much less severe.
However, when you're already sick, exercise may or may not be your best bet. In certain cases, you definitely should not exercise; in others, some light cardio may be just what the doctor ordered.
When Exercise Isn't a Good Idea
You are the best person to judge whether or not cardio is a good idea. If you can barely get out of bed, skip the sweat session. Fatigue is your body's way of telling you it needs a break.
If you have a fever, cardio exercise is also not advised. Cardio raises your body temperature, which, when combined with your fever, can have negative and even dangerous effects. Don't resume aerobic exercise until your fever has subsided.
Diarrhea and vomiting are other symptoms that indicate it's a good time to take a break from cardio, for obvious reasons. Although running is great exercise, running to the bathroom every five minutes isn't so great.
Other symptoms to be on the lookout for include aches and pains and a dry or heavily congested cough.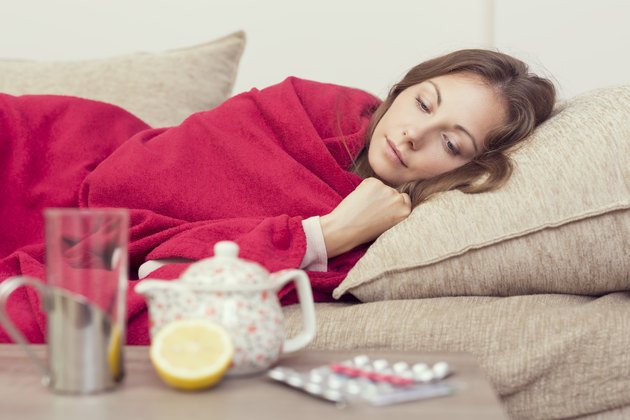 When Exercise Is OK
If you just feel a little icky but you're up and about, cardio is likely fine. Keep in mind, though, that that icky feeling could go either way — it could be the sign that you're about to come down with flu, in which case, exercise is ill-advised, or it could just be brief and mild malaise, for which some exercise might be good.
If you know you have a cold, the symptoms of which are typically limited to above the neck -- runny nose, watery eyes, scratchy throat, headache -- cardio is OK, according to results of a study published in Medicine and Science in Sports and Exercise.
Researchers divided subjects into an exercise and non-exercise group. The exercise group completed 40 minutes of moderate-intensity cardio exercise every other day for 10 days. At the end of the study, there was no difference in severity of symptoms or the duration of illness among the exercisers compared to those who did not exercise.
Best Type of Cardio
Although exercise boosts the immune system, it also puts stress on the immune system. This is especially true for people who do a lot of high-intensity exercise, long bouts of cardio — such as marathons — and those who don't allow adequate time for recovery.
When you're sick, your immune system is already stressed. It's fighting to rid your body of infection, and its defenses are weakened. Therefore, it is counterproductive to put more stress on the body.
Keep this in mind when you choose your workout. For a few days, take it easy. A brisk walk or an easy jog will put much less stress on your system. This type of cardio is enough to energize you, get the muscles moving and improve your mood while not taxing your weakened immune system. When you're feeling better, you can kick it into high gear.