Exercise makes you feel good and helps keep you healthy, but nothing can sideline you faster than a bout of the flu. The flu is a respiratory illness often accompanied by congestion and trouble breathing. Under those conditions you generally shouldn't exercise or undertake activities that make you breathe hard. If your flu symptoms are mild, use common sense when it comes to exercise. Don't push yourself too hard and give your body time to heal. If your symptoms are severe or you have a compromised immune system, see a medical professional for treatment and to discuss exercise options.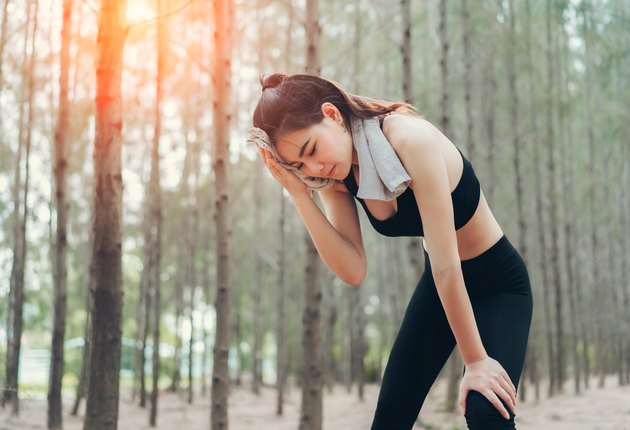 Definition
Influenza is caused by a virus that can cause fevers, stuffy nose, coughs, chills, sore throats and muscle aches, among other things. While some of the symptoms resemble those of the common cold, the flu is generally more intense, makes you feel worse and often shows up suddenly. If you experience nausea or diarrhea you probably don't have the flu, but have picked up a stomach virus.
Fever
You should not exercise if you have a fever, which is a common symptom of the flu. Your heart rate becomes elevated with a fever, and exercise can put too much strain on your heart. In some cases it can lead to heart failure. You also have a higher risk of becoming dehydrated when you have a fever, and exercising exacerbates that risk. Fever indicates that your body is working hard to overcome the flu virus, and the best thing you can do is rest and let your body heal.
Contagions
The flu is a highly contagious illness that is passed directly between people or by touching a contaminated surface. If you work out at a gym, stay home when you are sick to avoid spreading your germs to other people. You can leave flu germs on workout equipment that other people can pick up if the equipment is not wiped down and sanitized. To avoid catching the flu, think about working out during less popular hours at your gym during flu season and wipe equipment before using.
Exercise Intensity
Exercising on a regular basis can help prevent illness and can halve the amount of time you suffer from the flu if you do get the illness, according to the University of Maryland Medical Center. If you already have the flu, you shouldn't exercise with the same intensity as when you are well. If your symptoms are mild, stick to gentle to moderate exercises if you just can't give up a workout. When you are over the flu, return to a regular exercise routine gradually to give your immune system a chance to build back up. The IDEA Health and Fitness Association recommends two days of low-intensity workouts for every day you had the flu.