A byproduct of protein consumption, uric acid, one of the agents contributing to symptoms of gout, can be controlled without drugs by changes in diet. Uric acid is eliminated from the blood stream into the kidneys and then excreted normally. If for any reason uric acid is not excreted from the body due to an excess or to kidney dysfunction, it is deposited in the joints forming uric acid crystals, which are the basis of a painful form of arthritis known as gout. Read on for a variety of suggestions to lower uric acid with food and natural products from the grocery store.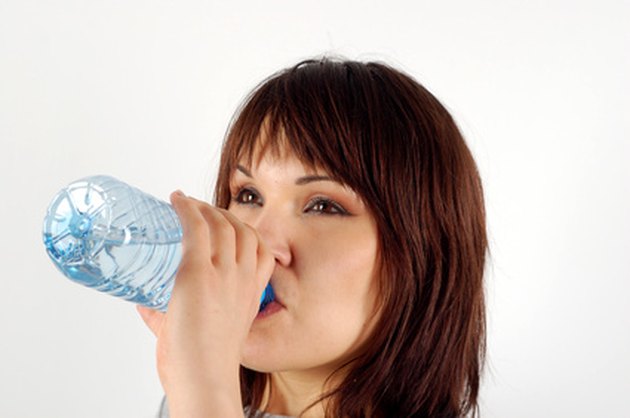 Step 1
Drink at least eight to10 glasses of water a day to stay hydrated and keep the urine diluted. Uric acid crystals do not form as readily in diluted urine.
Step 2
Avoid or greatly reduce foods containing purines such as animal fats, red meats, poultry and darker fish like tuna and mackerel, as well as shellfish, sausage and organ meats.
Step 3
Eat fresh fruits and vegetables, low fat dairy and whole grains to help create an alkaline-forming environment in the body. In his book, "Alkalinize or Die," Dr. Theodore A. Baroody discusses creating an alkaline state, allowing the blood and urine to become less acidic. The alkaline state helps to neutralize uric acid helping it to be flushed more easily by the kidneys. Baroody recommends eating grains that are more alkaline such as millet, amaranth and couscous in place of wheat.
Step 4
Drink tart cherry juice every day, to help the blood and urine become more alkaline. GoutPal.com mentions that cherry juice is high in potassium and other nutrients, and it's an effecitve treatment for reducing gout pain.
Step 5
Drink organic apple cider vinegar (ACV), which is high in potassium and aids the body's acid-alkaline balancing mechanism. According to Baroody and the Youngs in the "The pH Miracle," although ACV contains acetic acid, it helps to stimulate digestive juices that include bicarbonate, which contributes to the alkaline-forming ability of the ACV. When the system is more alkaline, uric acid buildup cannot occur at the same rate as in a more acidic environment. Take 1 tsp. in an 8 oz. glass of water three times a day according to Baroody.
Step 6
Raise your vitamin C consumption to help reduce uric acid levels. Health911.com suggests taking 1000 mg an hour at the early onset of a gout attack until pain subsides, then 500 to 3000 mg daily for prevention and to lower uric acid levels.
Step 7
Use lemon juice to neutralize uric acid in the body. Although an acid itself, lemon juice, like apple cider vinegar, helps to promote the production of digestive juices including bicarbonate, helping to neutralize acidity in the body. Health911.com mentions that lemon juice stimulates the formation of calcium carbonate in the body, which also helps neutralize uric acid.
Step 8
Take baking soda to neutralize uric acid and alkalinize your body. Baroody suggests ½ tsp. mixed with 6 to 8 oz. of water taken several times a day as needed up to a maximum of 2 tsp. daily.
Step 9
Mix ¼ to ½ tsp. cream of tartar with 8 oz. of water to reduce uric acid and help create an alkaline-forming state. Baroody mentions that cream of tartar, an acid, works similarly to ACV and lemon juice by stimulating digestive juices including bicarbonate which is released by the pancreas and aids in alkalinizing of the blood and urine preventing uric acid crystals from forming. Baroody further advises to use cream of tartar for emergencies to balance the body in times of illness, for food poisoning or panic attacks.
Things You'll Need
Baking soda

Cream of tartar

Lemons

Organic apple cider vinegar

Tart cherry juice

Fresh fruits and vegetables

Low fat dairy products

Alkaline grains (couscous, millet, amaranth)

Vitamin C capsules
Tip
Try one or more of these ideas over time. Several methods can be used at the same time and persistence is the key to success in lowering uric acid to prevent gout.
Warning
The suggestions offered here are for educational purposes and not meant to replace medical advice.