Rapid weight loss is often difficult to sustain, particularly if you lose the weight through extreme calorie restriction. The body will rebel at the low calories levels and it becomes difficult to make it through the day without binging on unhealthy foods. Exercise speeds up weight loss, and the body doesn't generally rebel against exercise the way that it does against fewer calories. Access to a treadmill allows you to lose weight fast without severely restricting calories and you can monitor your diet using a food diary.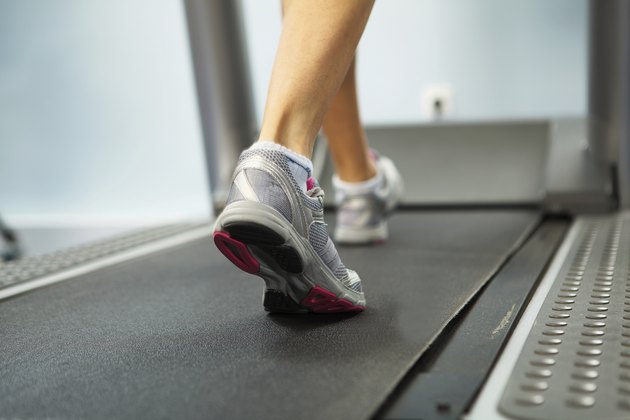 Step 1
Start with an easy workout. Walk or jog on the treadmill for thirty minutes two to three days a week. Not ready for thirty minutes yet? Gradually work your way up. People already accustomed to exercise can increase either the length of time or the intensity of the workout, but remember, this is supposed to be an easy workout. Make sure you have energy for your other workouts.
Step 2
Add hills. One workout each week should be a hill workout. You can use the hill workout programmed into the treadmill or manually adjust the incline of the treadmill. Don't use the hills as an excuse to slack off. Try to maintain your normal running or walking speed for the duration of the workout. Aim for 20 to 30 minutes on the treadmill.
Step 3
Go long. Once a week add a workout that is about twice as long as your easy day. The speed will undoubtedly be slower, but keep moving for the entire workout.
Step 4
Get faster. Run intervals for one workout each week. Those who normally walk should add some jogging intervals, if you normally jog, add some sprints. Most treadmills have preprogrammed selections that include interval workouts, or you can create your own. After a ten minute warm-up, speed up for 30 to 60 seconds. After a 60 to 90 second recovery, repeat the interval again. The entire workout should last between 30 and 45 minutes, including the warm-up and a 10-minute cool down.
Step 5
Monitor Calories. While exercise is a great way to lose weight, it is important to monitor calories as well. There is no reason to restrict calories on this program, but monitor your intake, by keeping a food diary, to ensure that you aren't eating more calories than normal due to your stepped up workout regimen.
Tip
Be consistent. The weight will come off much more quickly if you exercise most days of the week.
Warning
Expect some soreness when you begin a new exercise program, but not pain. Any time you experience pain, stop what you are doing and consider visiting your doctor.