Many dieters are understandably wary of eating cheese because most cheeses are high in fat and calories. However, there is more than a 30 percent difference in the number of calories found in commonly-served cheeses. Making smart choices when faced with a cheese tray allows you to take advantage of all the calcium that this food provides.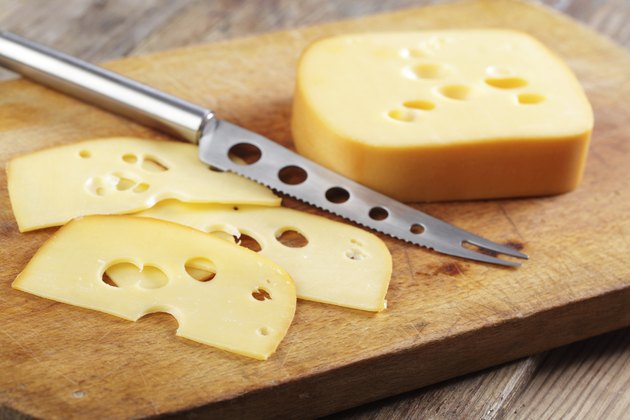 Mozzarella
With only 72 calories in 1 ounce, mozarella made with part-skim milk is the low-calorie leader among commonly-served cheeses. It has slightly more calcium than many other cheeses as it satisfies 22 percent of the daily calcium requirement and most other cheeses satisfy only 20 percent. It has a moderately high amount of sodium, with 175 milligrams of sodium.
Monterey Jack
Monterey Jack has only 100 calories per ounce. This cheese has far less sodium than other cheeses as it has only 150 milligrams. Many different variants of Monterey Jack with jalapeno peppers, chives and other natural additions appear regularly in most grocery stores.
Gouda
With only one calorie more than Monterey jack, 1 ounce of Gouda satisfies the same 20 percent of the daily calcium requirement. However, the similarities between the two cheeses end here. Gouda has 232 milligrams of sodium - nearly 54 percent more than Monterey jack. While cheese can never be considered a heart healthy food, Monterey jack is a healthier alternative when compared to gouda.
Swiss Cheese
Swiss cheese has only 108 calories per ounce, which means that the calorie count is not significantly different from gouda or Monterey jack. However, with only 54 milligrams of sodium, Swiss cheese is clearly the leader when it comes to low sodium cheeses. Given that Swiss has approximately 1/3 of the sodium of Monterey jack, it helps keep the sodium count down when added to other foods.
Cheddar
With 114 calories per ounce, cheddar has more calories than most other commonly-eaten cheeses. With 176 milligrams of sodium, cheddar has more sodium than Swiss and even more than Monterey Jack. Given these values, you may want to take a pass on cheddar if there are other alternatives on a cheese plate.