Pulse strength direct indicates how efficiently your heart is able to work. Experts usually classify pulse types by their strength and pattern. A specific pattern of strong or weak pulses can aid in diagnosis of heart and arterial problems, because it shows exactly how your heart pumps blood. The actual boundaries between classifications are vague and depend on your health and lifestyle.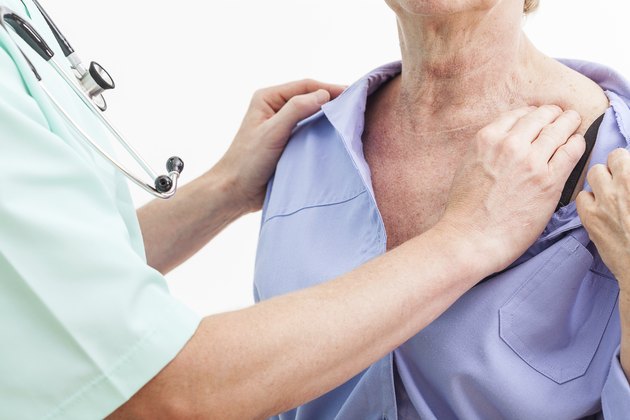 Pulse Basics
Your pulse indicates how well your heart is working and if it has to work too hard or isn't working hard enough. As blood leaves the heart through the arteries, the flexible artery walls move in and out along with the amounts of blood rushing through them, and the in-out motion is the pulse you feel. Pulses can be fast or slow, depending on your health and what is normal for you. The University of Alabama at Birmingham says that well-conditioned athletes can have very slow pulses -- 40 beats per minute compared to the normal 60 to 100 for adults. 40 bpm is normally a sign to see the doctor, though, so ensure that a low pulse rate is actually normal for you before assuming you're fine. Pulse speed can vary due to your blood pressure, emotional state and whether you are sick.
Weak Pulse
Weak pulses can barely be felt. They can occur in just one part of the body or all over, and they normally indicate a problem. This isn't always the case, as the University of Maryland Medical Center points out. If you aren't very good at taking your pulse and can't find one, you might just be doing it wrong. It's also possible that you have a normally weak-feeling pulse even when you're OK. Barring those two situations, seek medical attention immediately. A weak pulse can indicate heart failure, diabetic emergency, shock, a blood clot, heat exhaustion, internal bleeding, arterial disease or anything that could result from the heart not being able to pump enough blood through the arteries.
Bounding Pulse
The opposite of a weak pulse is a bounding pulse. Very forceful and strong, a bounding pulse is sometimes, but not always, visible in thin-skinned areas of the body. Bounding pulses are not always rapid, and they can be completely normal. If you've just run five miles, you probably have a strong, bounding pulse. Pregnant women and people with fevers can experience bounding pulses, too, as can people under high stress and anxiety. Other causes are more serious, and involve some sort of fluid overload distress, such as kidney or heart failure, or high blood pressure. Heat stroke can often initially have a strong pulse that later weakens. If you have a bounding pulse and have not been exercising, check with your doctor.
Pulse Patterns
Heartbeat strength patterns help doctors evaluate exactly what is going on with the heart, rather than just noting the presence of a problem. Pulsus bisferiens, for example, has a pattern of two strong and one weak systolic pulse, usually observable in the carotid artery. The University of Florida College of Medicine says that this can signal aortic stenosis and aortic insufficiency. Water Hammer, or Corrigan's Pulse, is a very strong and fast pulse that falls rapidly. This can indicate aortic regurgitation, in which blood flows backward from the artery toward the heart, called patent ductus arteriosis, or a type of incorrect blood flow between two arteries.
Is This an Emergency?
If you are experiencing serious medical symptoms, seek emergency treatment immediately.