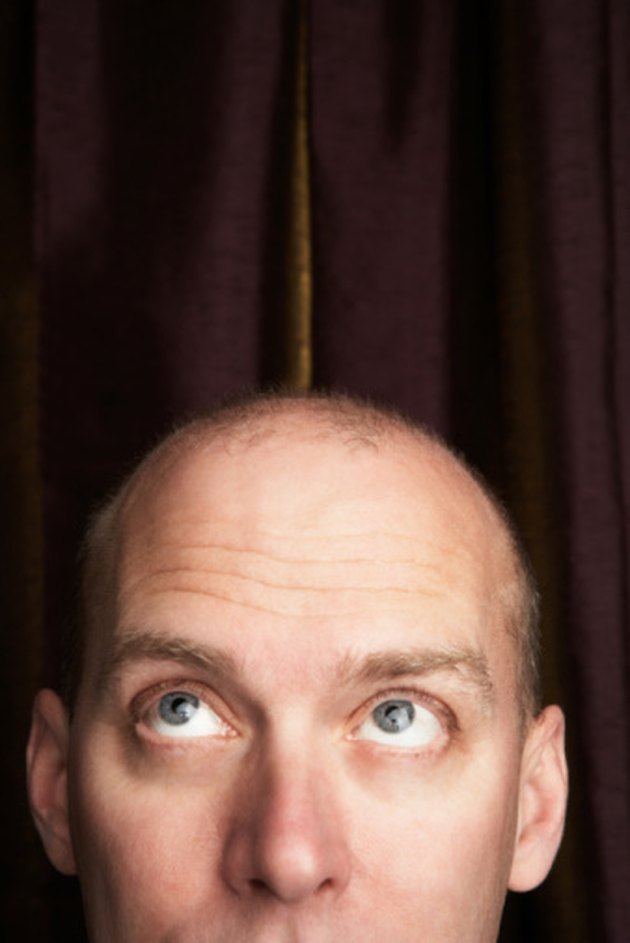 Certain medications, including those used to treat blood pressure problems, can lead to hair loss. The loss typically begins within a few days or weeks from the time you start a new medication or your doctor changes your dosage, says DermNetNZ.org. Hair loss caused by drugs is often reversible once you stop the medication. If you believe your pills are causing your locks to fall out, discuss your symptoms with a physician, and do not stop your medications without asking her. You can also make certain dietary and lifestyle changes to make your hair healthier.
Step 1
Discuss your hair loss symptoms with your doctor. The extent to which your hair falls out due to medication will depend on your genetics, and the strands will often come out in patches that resemble patterned balding. Your doctor will take a medical history from you and conduct a series of tests such as the hair pull test, a scalp biopsy and a blood test to determine the cause of your hair loss. If your medication is making your hair fall out, your physician may switch your medications or alter your dosage, if possible.
Step 2
Eat a diet that is rich in the vitamins, minerals and nutrients that are necessary for healthy hair. These include the B vitamin complex, calcium and biotin, all of which contribute to the growth and maintenance of your hair. Choose fruits, vegetables and lean proteins that contain these nutrients. Ask your doctor for suggestions, and check with her before you make any alterations to your diet or begin taking new supplements.
Step 3
Use a shampoo that contains zinc. According to the Huntington College of Health Sciences, getting an adequate amount of zinc in your diet is imperative for the health of your follicles. Additionally, applying the mineral directly to your scalp may help combat hair loss and encourage regrowth. Wet your hair and massage the shampoo gently into your scalp using the pads of your fingers, and then work it through your strands. Rinse it all out to avoid leaving behind any residue that may collect on your scalp and clog your follicles.
Step 4
Let your hair dry naturally, if possible. Overexposure to heat can fry your locks, leaving them damaged and more likely to fall out. Use a wide-toothed comb to work out any tangles, and do not tug or pull on your hair, which can also lead to loss.
Things You'll Need
Shampoo with zinc

Wide-toothed comb
Warning
If your hair is falling out in large chunks or your scalp starts to bleed, get medical attention as soon as possible.
Is This an Emergency?
To reduce the risk of spreading COVID-19 infections, it is best to call your doctor before leaving the house if you are experiencing a high fever, shortness of breath or another, more serious symptom.