A popular alternative to rice, pasta or couscous, quinoa is classified by the Whole Grains Council as a "pseudo grain", as it is technically a seed, not an actual grain. But quinoa benefits are similar to those of a nutritious whole grain, and the culinary uses are on a par, as well.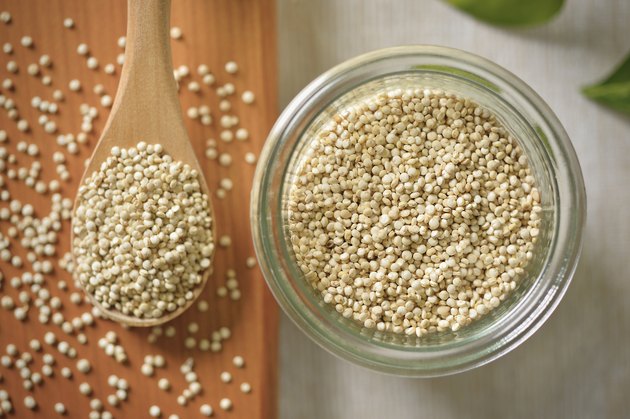 Tip
Eating quinoa raw isn't likely to be particularly appetizing! Because there is no history of eating it raw, it's best to stick with having it cooked.
What Are Quinoa Benefits?
USDA figures also show cooked quinoa is a useful source of important minerals, with 118 milligrams of magnesium, 318 milligrams of potassium, 2.8 milligrams of iron and 2 milligrams of zinc.
For people who are intolerant to gluten, quinoa is an option that can be eaten safely. One small study of 19 adults published in the February 2014 edition of the American Journal of Gastroenterology found that those with celiac disease not only tolerated quinoa well, but also had small improvements in their cholesterol level.
When cooked, quinoa benefits from a light, nutty flavor and is very versatile. The Whole Grain Council suggests using it in salads, as a base for veggie burgers, in soups or in breads, cookies and bars. Quinoa can be used as a breakfast cereal in place of oats, too.
Can You Eat Raw Quinoa?
There is no official guidance on whether you can eat raw quinoa. If you wanted to attempt it, at the very least it would be a good idea to give raw quinoa a good wash under running water before using . In fact, the Harvard School of Public Health recommends this for any quinoa that isn't pre-rinsed, even if you are going to cook it. This is because the grains can contain remnants of bitter-tasting saponins, which acts as a natural pesticide.
One way quinoa is palatable close to raw is when sprouted. Harvard Health Publishing says that sprouted seeds and grains can have increased nutritional value, as germination breaks down the phytate present in grains that normally decreases absorption of vitamins and minerals in the body.
However, Harvard Health Publishing also says that the moist environment when grains are sprouted can promote bacterial growth. So it's safest not to eat quinoa sprouts raw — instead, mash them before using in baked goods or stir-fry before adding to a meal.
In short, quinoa is a grain that really needs to be cooked to bring out the flavor and to make reaping quinoa benefits an enjoyable experience.