When adopting a raw food diet, you do not have to give up quinoa. Quinoa is treated like a grain in cooked preparations, but is actually a seed that may be sprouted and eaten raw. The seed originated in Latin America, where it has been used for thousands of years. Quinoa provides protein and a number of other nutrients that provide benefits to any diet plan.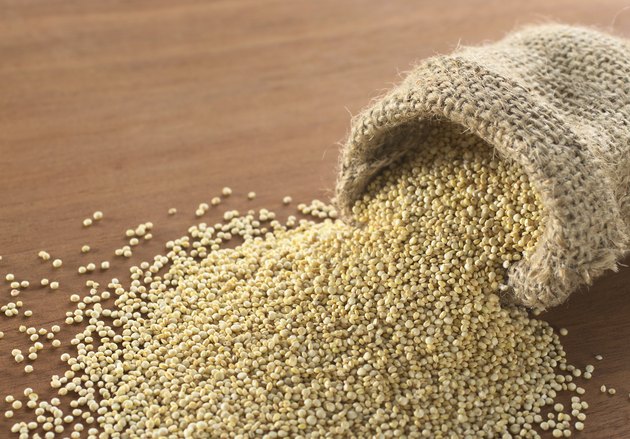 Preparation
Sprouting is a technique used by raw foodists to soften grains and beans. Rawists also sprout to help release some of the living enzymes in foods and break down the proteins and carbohydrates to make digestion easier. To sprout quinoa, soak it overnight in water. Drain and rinse it in a fine colander. Leave it to sit in the colander over a bowl for at least six hours, recommends Matthew Kenney and Sarma Melngailis in "Raw Food Real World."
Considerations
Raw quinoa is an acquired taste. Make sure you rinse quinoa before starting the sprouting process to remove a bitter outer compound known as saponin. Simply place the seeds in a colander under cool water until the water runs clear. You can sprout quinoa longer than overnight, resulting in a very soft texture. Use sprouted quinoa within one or two days.
Nutrition
A ½ cup serving of dry quinoa provides 313 calories and 5 grams of fat. It also provides 6 grams of fiber and 12 grams of protein. The protein in quinoa is complete, meaning it offers all the amino acids your body cannot produce in ideal amounts. Quinoa is a source of B vitamins, which help you produce energy. A ½-cup raw serving also offers 39 percent of the RDA for folate, which is important to red blood cell formation and proper fetal development. Raw quinoa offers 478 milligrams of potassium, approximately 10 percent of the daily recommendation for adults. Potassium helps to control blood pressure and balances fluids in the body.
Recipe
Use sprouted quinoa to make raw salads, such as a variation on tabouli. This recipe, from Kenney and Melngailis, uses 1 cup of sprouted quinoa, ¼ cup lemon juice, 3 tablespoons of olive oil, 1 ½ teaspoons of sea salt, 3 seeded and chopped tomatoes, 2 sliced green onions, 2 bunches of parsley and a handful of mint leaves, finely chopped. Mix all the ingredients together and let sit for 30 minutes to a few hours for the flavors to incorporate.