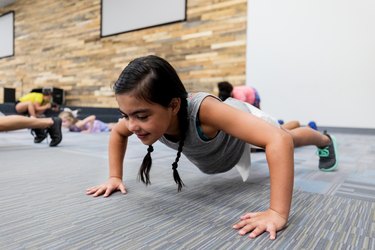 The benefits of exercise are plenty: improved brain health, stronger bones and muscles, boosted heart health — the list goes on. If you love working out, it only makes sense that you'd want your kids to experience all these perks movement has to offer.
Gyms that allow children to join are an excellent investment as they make a place the entire family can get fit and be active together. Not to mention, it takes the hassle out of finding time to work out if your kids are young and you need to keep an eye on them.
Before you register your child for a gym or an exercise program, you may want to do some research into what the best fit might be. We've compiled some helpful information below to help you figure out which gyms allow kids and what their amenities are.
What Age Can Children Begin Exercising?
While there is no ‌best‌ age for a child to start working out, children as young as elementary school can — and should — get regular physical activity. It's important for kids to socialize, plus it sets a foundation for them to be more in tune with their bodies.
According to the Centers for Disease Control and Prevention (CDC), everyone ages 6 to 17 should get 60 minutes or more of moderate-to-vigorous physical activity each day. Not to mention, it's beneficial for children younger than 6 to be active on a level that makes sense for their age, such as playing on the playground, per the Mayo Clinic.
According to guidelines from the Cleveland Clinic, children under 7 years old can begin running short distances: 100 meters up to 2 miles. As they get older, they can start to (safely) increase their distances.
Children can typically begin working out with weights around 7 or 8 years old, according to Nemours KidsHealth, a nonprofit children's health system. Younger children can safely start with body-weight exercises, such as hopping and jumping.
Kids can also join recreational sports teams, like soccer or baseball, as young as around 7 years old, according to the Hospital for Special Surgery (HSS). It's not recommended for your child to specialize in one sport too young, per the HSS, but rather diversify their activities. This is due to the potential of overuse injuries occurring. Check with your local community or your child's school for more information on team sports.
Ultimately, the most important thing is that your child enjoys the sports they're doing. So, talk with them to see what they're interested in and keep an open dialogue with them to make sure they're still comfortable with and enjoying the activities they chose.
Warning
Before your child goes to a gym, it's a good idea to get the OK from their doctor. Depending on their age and fitness level, there may be exercises they can't do. Additionally, some gyms may require a physical examination and clearance.
How to Find a Kid-Friendly Gym
The easiest way to identify gyms that do allow children is to call those in your area or check their websites. Access to the gym floor and weight room depends on the gym, due to safety precautions. When you think you've settled on a gym, schedule a tour for your child to meet the staff, observe fitness classes and learn gym etiquette. Be sure to inquire about discounted family rates.
Alternatively, many gyms or local rec centers offer group or organized classes that are age appropriate. Contact them to see which programs are available to children and teens. Review the options with your children to identify activities they'd be interested in.
Here are a few national gym brands that open their doors to younger members. (Note: Some gyms are individually owned and operated, and rules may vary by location.)
‌1. 24 Hour Fitness‌: Children 12+ can use gym facilities without being accompanied by a parent or guardian if they're a member or a guest. Children under 12 can only participate in the Kids' Club or other youth programs.
‌2. Planet Fitness‌: Children 13+ can have a gym membership as long as a parent or guardian is present when they sign up. However, those ages 13 and 14 must be accompanied by their parent or guardian at all times. There are no childcare services at Planet Fitness, and children who aren't members can't be left unsupervised if their parent or guardian is working out.
‌3. Gold's Gym‌: Members under the age of 18 must have a parent or guardian with them at all times.
‌4. Crunch Fitness‌: Minimum age varies by location, so contact your local gym to find out yours. Crunch Fitness does provide Kid's Crunch Babysitting as an add-on to any membership tier.
‌5. Equinox‌: Children who are 15 years old can use gym facilities as a guest, as long as they're accompanied by a parent or guardian. Equinox provides a Kid's Club for children 4 months to 7 years old. Children not in Kid's Club spaces aren't allowed in the gym.
‌6. Anytime Fitness‌: Minimum age varies by location, so contact your local gym to find out yours.
‌7. YMCA‌: Each YMCA location varies slightly with their age requirements for memberships. Call or check out your local YMCA's website to find out. All YMCA locations do provide childcare for members though.
Some fitness centers are designed exclusively for children, like MyGym, Gymboree and The Little Gym. These are built around younger clientele where kids can run, jump, tumble and climb to their heart's desire, as well as participate in more traditional fitness classes you'd see organized at the gym. You may even see smaller machines that can accommodate children and teens.
Important Features to Look for in a Gym
If you and the gym allow your child to join, be sure the gym meets certain guidelines that ensure safety.
Staff and trainers should be qualified to work and have experience with children.


Programming organized specifically for children and teens.


Children should be taught how to safely and correctly operate exercise equipment.


Supervision should be required, either with staff and/or parents.


Children do not use equipment that can harm them, like heavy weight machines.


Family-friendly atmosphere.
Tip
Be sure to ask what the gym does to identify children and their parents or guardians. Do they have their own memberships cards and sign-in? Are there protocols for checking children in and out of the gym?
Even if a gym does employ restrictions on younger children, many do offer babysitting services. Usually for a nominal fee or as part of your membership, children are dropped off and monitored by sitters employed by the gym.
Like other gym staff, these individuals are usually required to be CPR certified. Be sure to ask what kind of activities take place in the room — some are merely playrooms with a TV and snacks, where others are veritable gyms within a gym where kids can get the wiggles out.