Running is a cardiovascular fitness exercise. As such, it helps you burn the calories you need to lose weight. However, because you can't spot target an area on your body, this weight loss will occur not just on the legs but all over your body. For skinny legs, you need a combination of running like cardio exercises, as well as exercises that specifically target and tone your leg muscles.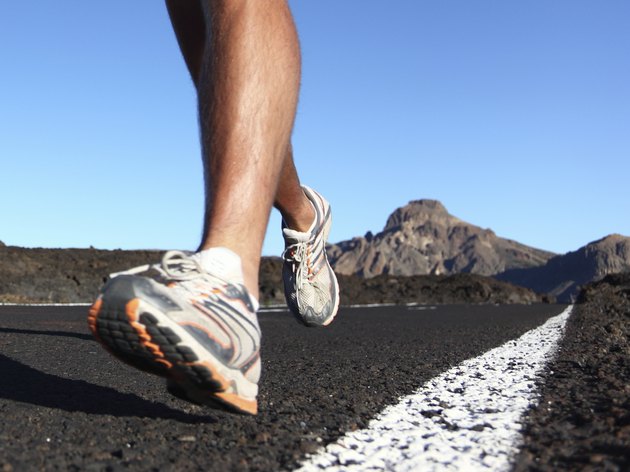 Cardio Exercises for Fat Loss
Performing 45 minutes to an hour of low-intensity cardio exercise most days of the week will help you burn overall fat. If you can't put forth this amount of time, try 20 to 30 minutes of high-intensity cardio most days of the week. This will help you burn calories, as well as increase your metabolism throughout the day. For the shorter duration, try interval cardio training, which consists of switching exercises in set time intervals. For such exercises, look to running, jogging, cycling or swimming. For longer-duration cardio, try focusing on one of these exercises per session. Try a combination of these intensities for at least six weeks.
Leg Extensions for Toning the Quadriceps
Leg extensions are simple exercises performed on the leg extension machine in your gym. Leg extensions help you work your quadriceps, the muscles that lie in the front of your upper legs. To start, sit at the leg extension machine with your feet under the roller pads. Keep your hands on the side handles for support. Gently lift the weight by extending both legs outward and upward until your legs are straight. Slowly return to the starting position. Perform three sets of 12 to 15 repetitions.
Leg Curls for the Hamstrings
Leg curls target the hamstring muscles in the back of each thigh. If you perform leg extensions you should also do a hamstring exercise, such as the curl, to avoid a muscle imbalance. Sit up straight in the leg curl machine with your feet on top of the roller pads. Press down on the rollers and move them smoothly, as far as you can. Return under control to the starting position. Do three sets of 12 to 15 reps.
Standing Calf Muscle Raises for Toned Calves
This exercise helps to tone the calf, the muscle at the back of your lower leg. Choose a flat, sturdy base to stand on. Start by standing straight on your feet. Slowly raise your feet until you reach a position wherein you are balanced on the balls of your feet. Hold this position for some time. Slowly return to the original position. Perform this exercise five to 10 times if you are a beginner. As you become more experienced, gradually increase to 15 to 20 repetitions per session.
Considerations
To lose fat on your legs, you must lose overall body fat. To help you lose this fat, you need to initiate a healthy, controlled diet into your daily routine. However, diet alterations take many factors into consideration. These include health, predisposition or likelihood for disease, dietary intake, lifestyle habits, such as smoking, current fitness level and current exercise routine. Thus, talk to your doctor about what dietary alterations would be best for you.