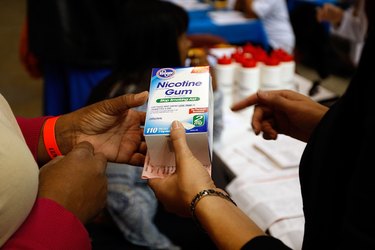 Nicotine gum was created to help smokers drop the habit once and for all. Available as an over-the-counter medication at your local pharmacist, nicotine gum comes in a variety of flavors. Despite the benefits that these gums offer, some worry about their nutritional contents.
Calories
Users of Nicorette do not have to worry about consuming too many calories with the gum. A single piece contains less than three calories. However, that doesn't necessarily mean that consuming excessive amounts of Nicorette is smart or safe.
Sugar
Thanks to the availability of artificial and natural sweeteners, all Nicorette products are produced in a manner that is deemed sugar-free. While cane sugar is not used to sweeten Nicorette gum, other sweetening agents are used. These include acesulfame potassium; Xylitol, a naturally produced plant-based sweetener; and sorbitol, a corn-based sweetener that is naturally produced.
Carbohydrates
The United States Department of Agriculture's Center for Nutrition Policy and Promotion recommends you consume no more than 288 g of carbohydrates each day. Containing only 1 g of carbohydrate in each piece of gum, chewing multiple pieces of Nicorette every day does not increase your carbohydrate consumption to a dangerous level.
Ingredients
The active ingredient in gum created by Nicorette is nicotine-resin complex, which helps curb the desire to smoke. Other ingredients in all Nicorette gum include flavor, sodium carbonate anhydrous, glycerol 85 percent, and sorbitol powder. Various flavors and dosages also contain other ingredients, such as peppermint oil -- Nicorette Mint Gum -- and sodium hydrogen carbonate -- 2 mg dosage.