Sipping a glass of wine with dinner or after a long day is typically a pleasurable experience. However, while enjoying the taste, you might not realize that you're adding calories and carbs to your diet. The standard size for a glass of wine is 4 or 5 ounces, so an 8-ounce serving is larger than what you are typically served as a bar or restaurant.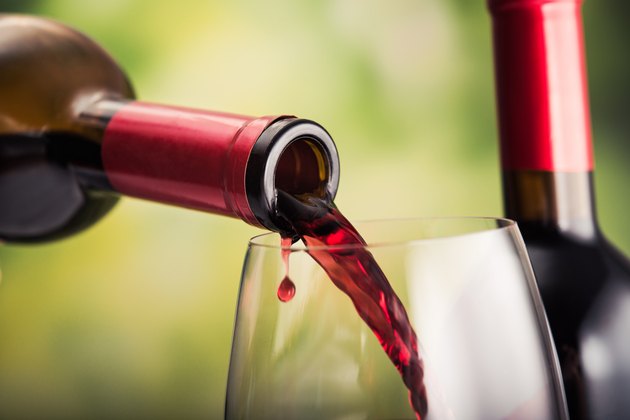 Red Wines
Three common types of red wine -- Merlot, Cabernet Sauvignon and Pinot Noir -- all contain roughly the same nutritional profile. An 8-ounce glass contains about 192 calories,. A glass of these reds also has about 6 grams of total carbohydrates, most of which come in the form of sugars. They contain no fat and virtually no sodium.
White Wines
White wine varieties typically contain about the same number of calories as red wine, with 192 calories in an 8-ounce glass of Pinot Grigio, Riesling and Sauvignon Blanc. The Pinot Grigio and Sauvignon Blanc also contain less carbohydrates per glass with about 5 grams per 8 ounces. Riesling, though, contains more sugar and has a higher carb content with about 9 grams per 8 ounces. The white wines also contain no fat.
Health Benefits
Moderate intakes of wine and other alcohol may offer some health benefits. Some scientific evidence suggests moderate wine drinking can reduce the risk of heart disease, MedlinePlus reports. In particular, red wine may offer health benefits because of its concentration of flavonoids, an antioxidant that helps prevent damage to cells. However, excessive intake of alcohol increases your risk for many serious and life-threatening conditions, among them certain types of cancer, pancreatitis, liver disease, high blood pressure, irregular heart rhythms, heart failure and stroke.
Recommended Intakes
According to the Dietary Guidelines for Americans, 2010, moderate alcohol consumption is defined as having up to one drink per day for women and up to two drinks per day for men. In terms of wine, a 4-ounce glass is considered one serving. This means that drinking an 8-ounce glass equals two servings. Consuming alcohol in excess of these recommendations increases your risk for alcohol-related illnesses and also makes you more likely to develop a dependence on alcohol. Regular consumption of even small or moderate amounts of alcohol can cause an addiction, MedlinePlus warns.