When trying to lose weight quickly it may seem logical to severely restrict calorie intake or skip meals as a way to cut back on calories. While reducing caloric intake is necessary to shed unwanted pounds, skipping a meal does not lead to successful weight loss. To lose weight and keep the weight off, it is necessary to develop a lifelong healthy eating plan that should include at least three balanced meals a day and a wide variety of foods rich in the nutrients your body needs.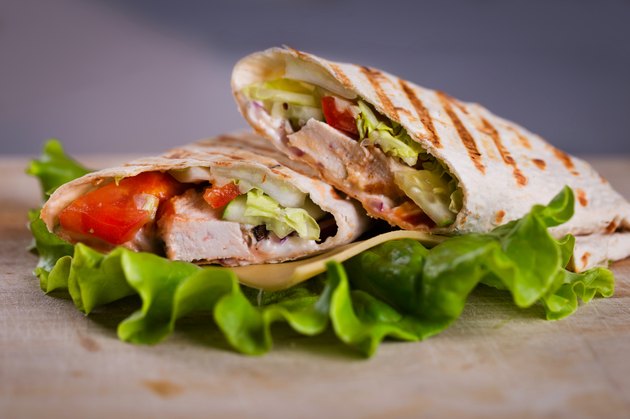 Identification
Losing weight involves taking in fewer calories than your burn. You can accomplish this by cutting back on the amount of food you eat and by exercising to burn calories. Since 1 pound is equal to 3,500 calories, to lose 1 pound per week, you should have a daily deficit of 500 calories. However, you must consume enough calories so your body gets the nutrients it needs to function properly. Trying to lose too much weight too fast, results in a loss of water weight and lean muscle mass instead of excess fat. In addition, you can't follow diets that are too restrictive long term, which means that when you return to your regular eating patterns, the weight you lost will return. Instead, you should aim for a long-term meal plan that includes three to six meals or healthy snacks a day, consisting of a wide variety of fruits, vegetables, whole grains, lean protein and low-fat dairy products.
Appetite Control
Skipping any meal can cause you to feel hungry later in the day, which can contribute to overeating or making poor food choices. Individuals who skip meals tend to be heavier than people who eat four or five times a day, according to the Weight-control Information Network. Eating frequently keeps your appetite in check as well as reducing the temptation to binge and consume unhealthy foods.
Slower Metabolism
A slower metabolism burns fewer calories even when you're at rest, so taking steps to boost your metabolism can aid in your weight-loss efforts. Metabolic rate changes throughout the day and you must consume enough calories to support basic functions. When you skip meals or attempt to starve your body, your metabolism actually slows down to conserve calories for survival. In addition, it may be better to eat more of the daily caloric allowance earlier in the day, as you are more likely to burn those calories through activity. Skipping lunch and then eating too much at night when you are more sedentary, means that all of those calories get stored in your body.
Blood Sugar Fluctuates
After a meal, the body breaks down the food into glucose, or blood sugar, to use for energy. Eating sporadically can cause fluctuations in blood sugar levels. When these levels get too low, you might experience cravings to overeat and consume high-calorie sweets. Instead of skipping lunch or any meal, the Cleveland Clinic suggests eating four to six small meals to keep your metabolism burning efficiently. Choose filling foods, rich in nutrients yet moderate in calories like fruit, vegetables or nonfat yogurt instead of sweets or chips. You should also drink about eight, 8-ounce glasses of water each day and not eat two to three hours before bedtime.