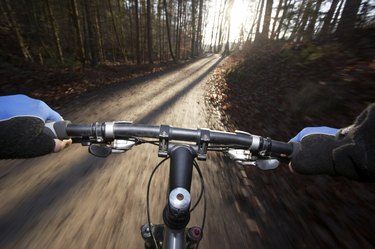 The Mongoose brand of bicycles focuses on two product lines for consumers. The most popular line comprises discount bikes offered in department stores, while higher-end Mongoose bicycles can be found on the Mongoose website or in specialty bicycle shops. Mongoose bicycles have at times been criticized for poor reliability and construction, however, many of these issues can be attributed to how and where the bicycles are used by their owners.
Getting What You Pay For
If used properly, the department store line of Mongoose bicycles can hold up very well. While these models may not offer the best components or stiffest frames, whether for on or off-road riding, it should be understood that the department-store Mongoose bicycles are not made for performance-oriented rides. Instead, particularly for their price point, Mongoose's department-store bikes are built for simple on-road commutes such as to school, work or the store.
Different Models on the Web
A far-superior Mongoose line can be found on the official Mongoose website. These bicycles, which comprise specific models for BMX, mountain and urban biking, are offered with better-made frames and higher-level components. They are also much more expensive than the department-store Mongoose bicycles. The BMX and mountain bike frames, for example, are constructed from high-end, triple-butted aluminum or steel, with some models built specifically for competition, a factor which further separates these superior Mongoose bikes from those found in department stores.
Testing the Higher-Level Mongoose
Department-store Mongoose bicycles perform well for their intended uses and so do Mongoose's higher-level bicycles. In a review of Mongoose's Tyax Elite hardtail mountain bike, which is offered through Mongoose's website, BikeRadar.com found the bicycle to perform well in aggressive trail riding during ascents and descents, much of this owing to the model's intended design, front shock geometry and high-level groupset.
Assessment and Use
As with any bicycle manufacturer who provides a wide range of products, it is important for the customer to know how he or she intends to use the Mongoose bicycle before purchasing it. If used within its design and limits, Mongoose offers very good bicycles. A buyer simply has to be aware of those limits, and for their own purposes, select the proper Mongoose bicycle whether it is for commuting or energetic cycling.