If you are trying to limit your coffee consumption, you might be tempted to try a coffee alternative called yerba mate. This traditional South American beverage, brewed from the leaves of a type of holly tree called Ilex paraguariensis, may boost your energy like coffee due to its caffeine content. It provides some beneficial nutrients, but may present some health risks if you drink it in large amounts. Understanding how it compares to coffee can help you make an informed decision on which beverage is the better option for you.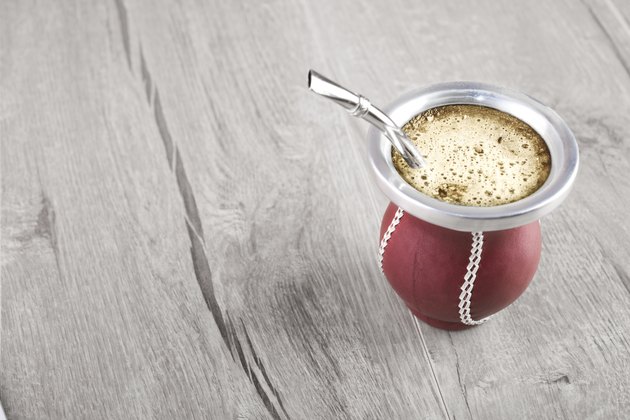 Nutrient Content
An 8-ounce cup of coffee provides 11 percent of the daily value for riboflavin, as well as trace amounts of thiamine, niacin, pantothenic acid, folate, magnesium, phosphorus, potassium and manganese. Like coffee, yerba mate provides at least small amounts of potassium and B vitamins, as well as zinc, magnesium and vitamin C. Both yerba mate and coffee provide antioxidants, but coffee contains a lot more of these beneficial substances with 1.2 to 3.5 micromoles per 100 grams, compared to just 0.3 micromole per 100 grams of mate tea.
Caffeine Content
If you're worried about how much caffeine you're consuming, mate may be a better choice than coffee. Yerba mate has less than 80 milligrams of caffeine in each cup compared to 100 to 200 milligrams in a cup of coffee. Some people also find that they don't experience as much of a crash after drinking mate as they do after they drink coffee, notes a 2009 Los Angeles Times article.
Cancer Risk
There isn't much of a risk of esophageal cancer from drinking tea or coffee, although the risk may increase if you drink these beverages very hot, according to a review article published in the "International Journal of Cancer" in August 2009, which notes that a limited number of studies consistently found a higher risk for this type of cancer from drinking mate, with the risk increasing when larger amounts of mate were consumed. Even drinking just one mate per day increases your risk with some studies showing approximately three times greater risk compared to not drinking it at all. Furthermore, drinking coffee may actually lower your risk for oral cancer, according to a study published in the "American Journal of Epidemiology" in 2013.
Other Potential Health Effects
Yerba mate isn't safe to drink during pregnancy, as it may increase the risk of low birth weight, premature birth and birth defects, according to Drugs.com. However, drinking coffee may increase your risk for high cholesterol and insomnia, but it may also decrease your risk for diabetes, Alzheimer's disease and Parkinson's disease, according to an article published in "Critical Reviews in Food Science and Nutrition" in April 2011.