Whether your hip pain is caused by arthritis, bursitis or a problem with the muscles and nerves, the irritated joint can cause pain during the simplest activities. If you have hip pain, you may need to modify your exercise routine. Hip pain exercises to avoid include a variety of cardiovascular, strengthening and stretching exercises.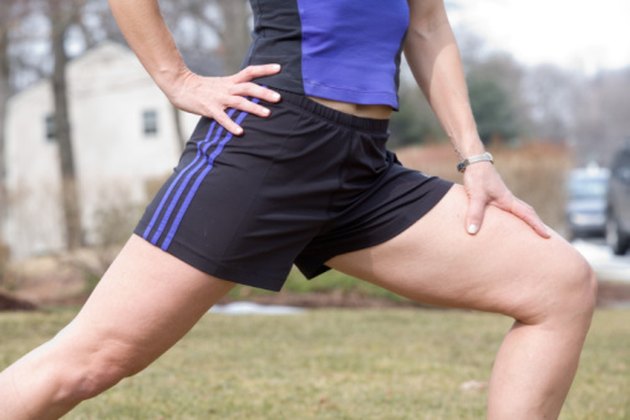 Cardiovascular Exercises
Although cardiovascular exercise can be beneficial for patients with hip pain, you should avoid any exercise that places a significant amount of stress or impact on the hip joint, such as running or jumping. You should also avoid any exercises that involve repeated bending at the hip joint, such as climbing stairs, step aerobics, rowing machines and bicycling.
Strengthening Exercises
Similar to cardiovascular exercises, you will want to avoid any strengthening exercises that place unnecessary stress on the hip joint. For example, lunges and squats require repetitive movement at the hip joint, which will only irritate the pain. Furthermore, avoid using any exercise machines that require repetitive bending in the hips. Although these machines may not specifically work the hips, they can still irritate the painful joints.
Contact Sports
The hip joint is particularly vulnerable to injury during sports that require excessive pivoting or twisting movements. These sports include golf, tennis, basketball and soccer. As with any type of pain or injury, you should also avoid any contact sports that could result in a direct blow to the painful joint. Contact sports include football, rugby and wrestling.
Stretches
Avoid stretches that require you to spread your legs wide open or bend forward deeply at the waist, such as toe touches. If you experience pain while lying on your side, avoid any stretches that require this position. For example, side-lying leg lifts may irritate the joint as your hip bone presses into the ground. Avoid stretches that require bringing the knee past hip level or swinging the leg across the body. When doing yoga or Pilates, pay close attention to your body's reaction to the different positions. It may be necessary to modify certain postures to avoid triggering hip pain.
Allowed Exercises
Although walking also involves repetitive joint movements, you can minimize pain by walking on soft surfaces, such as grass. Ideally, though, opt for cardiovascular exercises like swimming or water aerobics. When strength training, choose exercises that allow you to focus solely on the abdominal muscles, arms, chest or back. Many of these exercises can be done without placing stress on the legs or hip joints.