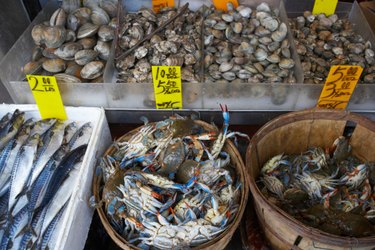 Methylsulfonyl-methane, or MSM, is a naturally occurring sulfur compound found in the diets of humans and other vertebrates. The concentration of MSM in the body declines as people age. Although MSM has been studied quite a bit for its effect on arthritis, MSM has a number of positive actions in the body.
MSM
MSM is considered to be one of the least toxic biological substances, according to Life Extension. In its pure form, it is odorless, has a slight bitter taste, is water soluble, white, and is a crystalline powder with 34 percent elemental sulfur. It is a normal component of fresh fruits, vegetables, seafood and meat, and has been detected in chocolate, tea and coffee. After being ingested, MSM gives up its sulfur to the essential amino acids methionine, cysteine and other serum proteins.
Weight Loss
There are no clinical studies on MSM and weight loss, only some testimonials from people who say that they think MSM has helped them to lose weight. Since MSM is important in insulin production and blood-sugar levels, it does affect energy levels and carbohydrate metabolism, and could have an indirect effect on weight loss. Because of its ability to alleviate joint problems and lessen pain, MSM may help people become more active. The Mayo Clinic cautions against the use of MSM for any health condition, due to the lack of long-term studies.
Joint Problems
Researchers at Oregon State University studied a strain of mice prone to develop joint lesions like those of rheumatoid arthritis. Animals fed a diet that included a 3-percent solution of MSM showed healthy articular cartilage after three months, while mice receiving no treatment showed degeneration of articular cartilage.
The UCLA School of Medicine studied humans with degenerative arthritis. Sixteen patients, with 10 on MSM and six on a placebo, were studied for four months. In only six weeks, the patients on MSM had 80 percent control of pain, while those on placebo experienced an 18 percent improvement.
Other Actions
Although scientists do not know all the actions of MSM, researchers at Oregon Health Sciences University have found several conditions that respond well to MSM. It has helped allergic responses to pollens and foods so that medications may be reduced or eliminated. It has controlled hyperacidity with good results. Some patients with chronic constipation have had immediate and continuing relief from it. MSM is involved in the formation of collagen in the body, and improves hair, nails and skin. Sulfur helps with acid/alkaline balance in the body, which is important for overall health.