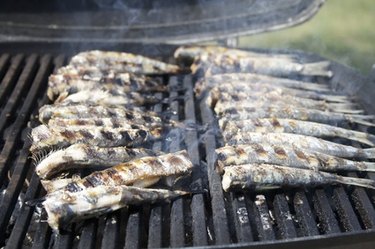 If you eat animal sources of protein, fish and chicken are your healthiest options. Canned sardines are a convenient and inexpensive way to include more fish in your diet. Often bypassed in favor of the more popular canned tuna, sardines are a concentrated source of protein, along with a number of other nutrients.
Amount of Protein
A 1-oz. serving of oil-packed sardines provides 7 g of protein. The protein in sardines is comparable to the amount in beef steak, which also contains 7 g. Sardines, as opposed to the beef, have only trace amounts of saturated fat – the type that can increase your risk of heart disease if eaten to excess. Sardines have slightly less protein per ounce than chicken breast, which offers almost 9 g.
Considerations
The protein in sardines is considered complete, meaning that it provides all the amino acids that the body cannot produce on its own. Sardines packed in oil may be rinsed gently before consuming to remove excess. You can also purchase sardines packed in water or sauced with tomatoes or lemon pepper seasoning. Although canned versions are the most common and affordable, some fish mongers offer fresh sardines.
Additional Benefits
Eating sardines as a source of protein provides you with a number of other nutritional benefits as well. Sardines are a source of omega-3 fatty acids, which support cardiovascular health and brain function. Sardines also provide vitamin B-12, with 2.5 micrograms per oz. – or 42 percent of the daily value based on a 2,000-calorie diet. Canned sardines with the bone, making them a source of calcium and phosphorus, essential to healthy bones. In a 3-oz. serving of canned sardines, you get 321 mg of calcium and 411 mg of phosphorus.
Uses
To benefit from the protein in sardines, use them to top salads or toss them into a tomato-based pasta sauce. Top sardines with balsamic vinegar and serve over brown rice. You can grill fresh sardines topped with chopped tomato, lemon juice, parsley and minced garlic.