A pinched nerve occurs when a nerve is compressed and causes symptoms such as pain, numbness and weakness in the affected limb. Pinched nerves can occur anywhere along your spine due to a bone spur or herniated disk, but may also occur in your arms and legs if nerves are compressed by a tendon or ligament. If you suspect you have a pinched nerve, consult your doctor and do not work out with a pinched nerve as this may cause further damage.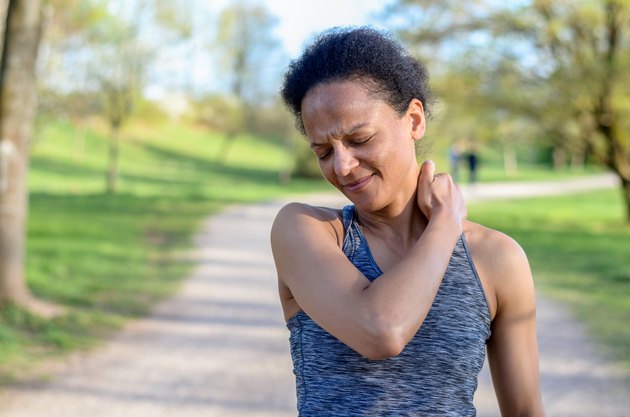 Tip
Do not workout with a pinched nerve without your doctor's approval and guidance. Your doctor may recommend certain exercises depending on the severity and location of the pinched nerve. However, failing to properly treat the injured nerve may lead to worsening of the condition and possibly even permanent damage.
Workout With a Pinched Nerve
Working out with a pinched nerve is not recommended. Pinched nerves can cause weakness which makes lifting heavy objects, including weights at the gym, dangerous. It may also delay your recovery or even worsen the condition.
Other types of exercise can be just as damaging when you have a pinched nerve including any impact sports and movements that require high intensity, sudden movements or repetitive motions.
You should not remain completely sedentary, however. Walking and gentle stretching with the approval of your doctor will help keep your body loose and speed your recovery. Be sure you are getting enough rest and strive to maintain good posture to help heal the nerve and prevent future issues.
Warning
If you experience sudden pain, weakness or numbness that does not resolve or lose bowel or bladder control, contact a healthcare provider immediately.
Diagnosing a Pinched Nerve
Symptoms of a pinched nerve include pain, numbness and tingling and weakness. These may vary depending on where it is located in your body.
For example, a pinched nerve in your neck may cause pain in your arm and shoulder and pain that worsens when you move your head and neck. A pinched nerve in your lower back may cause weakness in your legs and pain or numbness that may reach all the way to your foot.
Your doctor will perform a physical exam to diagnose the pinched nerve. Additional testing may include an X-ray, MRI or CT scan.
Pinched Nerve Treatment
In many cases, a pinched nerve can be treated with rest, anti-inflammatory medications or muscle relaxants and physical therapy. A soft collar may be recommended if the pinched nerve is in your neck.
In severe cases, more advanced treatments may be necessary. These may include steroid injections or surgery.
Exercises for a Pinched Nerve
Some gentle stretches and exercises may help a pinched nerve by keeping the surrounding tissues and joints loose and strengthening the muscles to improve posture.
For example, stretches and exercises for a pinched nerve in your back may include laying on your back and pulling one or both knees into your chest to stretch the lower back, advises Harvard Health Publishing. You can also try laying on your back with your knees bent and feet flat on the floor. With your hands behind your head, flatten your back to the floor. Both of these exercises should be held for five to 10 seconds and repeated five to 10 times each.
Consult your doctor before performing any exercises or stretches.