Two things need to happen when you want to lose weight. First, you have to make changes to your diet. If you keep eating lots of fat-laden food, you will not make any progress. Second, you must exercise. Any running routine is good for weight loss, but you can get the best results by doing interval training. According to the Mayo Clinic, interval training maximizes your caloric expenditure. Consult your doctor before beginning any new exercise or diet regimen.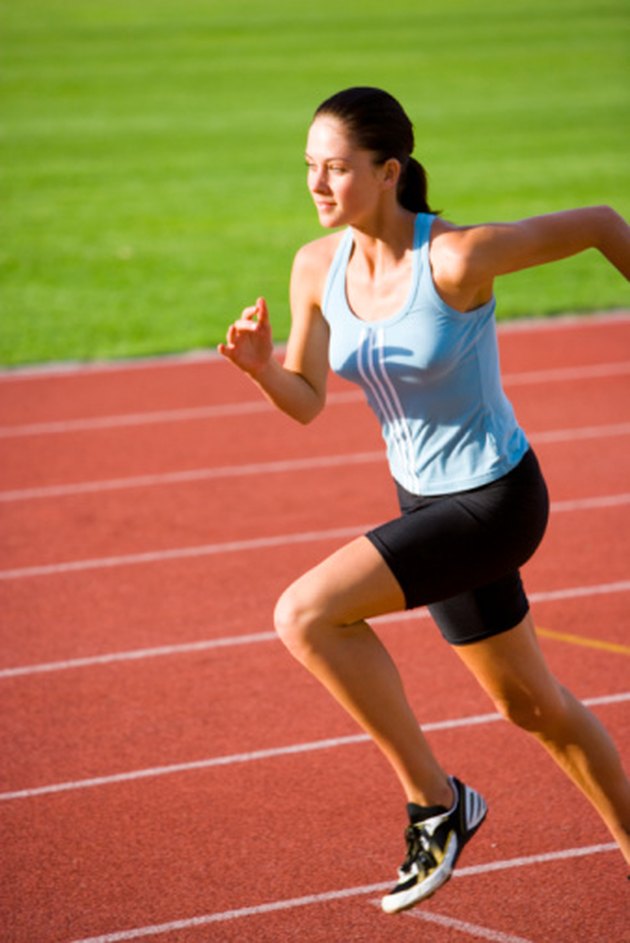 Stretching Before Running
When you run, you swing and kick your arms and legs back and forth in a steady motion. This causes a high amount of muscle and joint activation. If you just go out and start running without loosening up, you increase the chances of getting injured. The way to prevent this is by doing dynamic stretches. These are performed in a steady motion, the Sports Fitness Advisor website explains — unlike static stretches, which you hold steady. Incorporate stretches like trunk rotations, side bends, arm circles, shoulder shrugs, alternating toe touches and leg swings.
Warm Up
After performing your stretches, spend five to 10 minutes doing a light warm-up to slowly raise your core body temperature. Start out at a brisk waking pace, then gradually increase your pace as you approach the end of your warm-up. This will further loosen up your joints and muscles.
Running Your Intervals
Now that your body is thoroughly loosened up, you are ready to do your intervals. If you are running outside, you can use landmarks or time frames to monitor your intervals. If you are using a treadmill, you can use time. Run at an intensity that is about 75 to 80 percent of your maximum effort for 15 seconds. If you use landmarks, try to make them far enough apart that it takes 15 seconds to run between them. After you do your high-intensity bout, jog lightly for 30 seconds; if you're using landmarks, just jog back to your starting point. Run hard again, then jog lightly. Continue this pattern for 30 minutes and finish with a light, five-to-10-minute cool-down.
Tabata Workout
If you are pressed for time, consider doing a Tabata workout. This routine is commonly done with weight training exercises and it is very short. But don't let the length of this workout fool you, the Weight Loss n' Diet website cautions. Because it is very high-intensity, your metabolism stays elevated long after you are finished. Begin with stretches and a light warm-up. Then run as hard as you possibly can for 20 seconds. Take 10 full seconds to rest and run hard again. Continue to alternate back and forth until you've exercised for four minutes. Perform a light cool-down jog when you are done.
Adherance
To be successful at losing weight, you need to run on a regular basis. Aim for three interval sessions a week, performed on nonconsecutive days. On your off-days, feel free to run at a low intensity for a longer period.