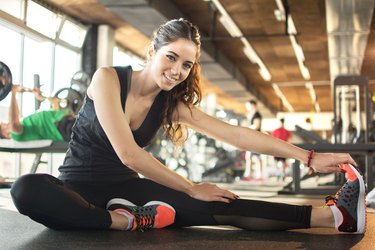 The running shoe for a runner is like a tennis racket for a tennis player or a golf club for a golfer. This one piece of equipment can make or break your performance. The right shoes will fit well and help you stay injury-free so that you can fully enjoy your runs.
Buying a running shoe isn't as simple as choosing the size and color you like. There are distinctly different types of running shoes based on the size and shape of your foot, as well as the way you run. Look at different options depending on where you run, whether it be a trail in the woods or down a paved road.
Finding the Right Fit
The first step to buying a shoe is finding the right fit. You might have to try on a host of different shoes by different brands before you find the right one. Each running shoe company makes the molds for their running shoes from only a handful of foot models, and there's a good chance that your foot doesn't fit a certain company's model.
When you put a new shoe on and lace it up, the first thing you should feel for is a locked-in heel. There shouldn't be any space around your heel and it shouldn't move in the shoe when you walk or run.
The width of the shoe is important since feet come in all shapes and sizes. There shouldn't be too much room in the front of the shoe but you also shouldn't feel it pressing against your toes. Look for a little bit of room between your big toe and the end of the shoe because your foot will swell up slightly when you run. You might have to go up a size from your street shoes.
Matching Your Running Style
A snug fit still doesn't guarantee that you've picked the right shoe. Shoes are built to accommodate different running styles. Some have a lot of cushioning and others are minimal and have very little support. Some cater to people who pronate when they run, which means that they roll onto the inside of their foot. On the other hand, some people run on the outside of their foot, or supinate, and certain shoes accommodate that foot strike pattern.
Since so many nuances to shoe selection exist, it's best to get your first pair of running shoes from a specialist at a shoe store who can look at your foot and even watch you run to get an idea of the best shoe for you. If the shoe store isn't for you, try out some of these highly-rated running shoes:
Asics Venture 5
Rated one of the top three running shoes for beginners by runningclick.com, this shoe is affordable, lightweight, and durable. It has excellent cushioning as well. You can wear this shoe while running on the road or on the trail due to its durable design. The sock liner is removable to accommodate orthotics. This shoe is ideal for an under-pronator, which means that you run on the outside of your foot.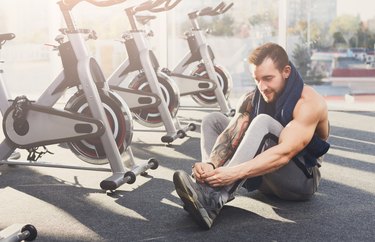 Brooks Ghost 9
The Runner's World 2016 Fall Shoe Guide named this the Best Buy, according to Runner's Click. It has plenty of cushioning and is ideal for someone who has a high arch. The shoe is considered neutral, which means that it's not made for someone who over or under-pronates. It's made to be used on a road or a track.
Nike Air Zoom Pegasus 33
This shoe is highly touted for beginners since it is well balanced. It's not made for any specific type of gait or running style. It's lightweight but cushioned enough to absorb the impact from your run. However, it's so balanced that if you need a specific fit for your feet, such as a wide toe box or support for high arches, it won't suit your needs.
New Balance 1340
This shoe is built with added shock absorption in the forefoot, making for a smooth and comfortable feel. The added comfort does come with a little extra weight, however, as this is one of the heavier shoes. You can order these shoes in various widths, which is ideal for someone with wide feet. It's perfect for someone who has low arches.
Merrell Vapor 2
If you want to go the minimalist shoe route, this is your best bet. It's one of the highest-rated minimalist shoes on the market at a very reasonable price. The shoe is breathable and lightweight. It's made with Vibram soles, which are durable and provide great traction.
The only downside to wearing a minimalist shoe is that it isn't very supportive, which might take a toll on a beginner's body. If you choose to go with a minimalist shoe, make sure you take the time to get used to it.
Asics Foundation 12
This shoe is designed to control the motion of your foot as you run and guide it along the proper path. It has gel cushioning for added shock absorption which will protect your foot and lower leg as you run. It's designed to accommodate orthotics if you need them while you run. This shoe is made for someone who pronates too much when they run.