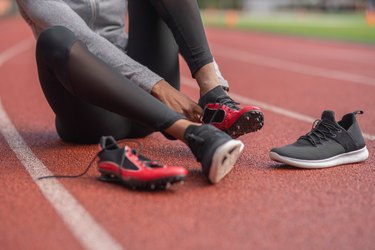 Unlike basketball or volleyball, running is a pretty low-maintenance sport. And although running doesn't require too much equipment, track athletes probably have a few pairs of sneakers in their gym bag, including track spikes.
But not all shoes for sprinting are created equal. Learn what size spikes are best for sprinters and different races — plus how to avoid getting disqualified from your race.
The Different Types of Running Spikes
Track spikes are specialized shoes designed specifically for track and field events, according to endurance and triathlon coach Garret Seacat, CSCS. For shorter-distance sprints (like the 100-meter dash), a light and stiff shoe with traction is ideal.
These also have practically zero cushion, as sprinters tend to run on the front part of their foot for speed. And while that's necessary for a race, it makes spikes pretty unstable and potentially unsafe on other surfaces, Seacat says.
2. Middle-Distance Spikes
Middle-distance sprint spikes are similar to shorter-distance spikes but usually have a little more cushion due to the longer distance. Middle-distance races range from 800 meters to 15oo meters, which can be a lengthy time to run with practically zero cushion under your feet.
If you're a mid-distance track athlete, it's best to invest in a pair of shoes that's made for your events. So, before you buy a pair of spikes, read the product info to make sure the shoes work for your race.
"Finding the right pair of track spikes is very much like that of any other shoe," Seacat says. "Track spikes vary depending on different running distances and also by field events. So, a spike designed for running the 100-meter dash is different from that of someone using a pair of spikes for cross-country events ... So be aware of what your goal is."
Long-distance sprint spikes (not to be confused with cross-country spikes) are more cushioned than the other two varieties, offering your joints a little more impact protection while you run.
Due to the extra cushion and materials, these spikes are generally a little heavier but also provide more stability.
Spike Pin Length and Shape
Track shoes come with small metal spikes that screw into the bottom of the shoe for extra traction while you race, Seacat says. But as mentioned above, different races have different regulations and not all spikes are allowed on a track.
When it comes to size, generally, the max length for a track spike for sprinters is about 7 millimeters, according to USA Track and Field (USATF). However, certain events (like the high jump or javelin) allow longer and shorter spikes — but again, this varies by meet and organization.
The spike shape for sprinters matters, too. Generally pyramid or cone-shaped spikes are the only shapes allowed at most meets. Christmas tree–shaped spikes and needle spike pins are generally not permitted for competition, warm-ups or practice sessions, per the USATF.
What Size Spikes Are Best for Sprinters?
Although regulations can vary, generally 7 millimeter spikes are best for sprinters. However, sometimes, different events allow longer and shorter spikes. Breaking the rules can disqualify you from racing, so make sure to double check the regulations before you step onto the track.
Best Track Spikes for Sprinters
1. Best for Short-Distance Events: Nike Zoom Rival Sprint Track and Field Shoes
Nike's Rival Sprint shoes are built for short track races, ranging from the 60-meter dash to the 400-meter sprint. But these can also be used for different events, like hurdles and pole vault. Before your meet, double-check whether you need to buy separate pins for these events.
2. Best for Middle-Distance Events: New Balance FuelCell MD-X
These New Balance spikes have a little extra foam in the heel for comfort and joint protection, but they're still super lightweight. The knit on the upper material also feels snug and stable, so your ankles get a little extra support.
3. Best for Long-Distance Races: Nike Zoom Rival
For longer races, the Nike Zoom Rival is a great track spike. These have more cushion in both the heel and middle of the foot, yet they maintain a lightweight design. They also have four adjustable cone spikes on the bottom.