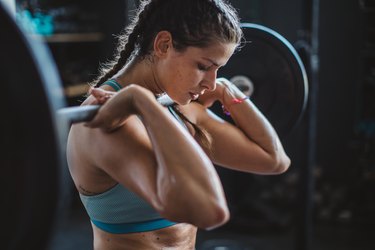 It is widely known that, on average, men are stronger than women. A big part of the difference is based on the amount of muscle each gender has in their bodies.
That is, men are stronger simply because they are typically larger; most of the reason for greater strength is larger muscles. Pound for pound, there is a much smaller difference in strength between genders than most would assume.
According to the American Council on Exercise men have more type ll muscle fibers while women have more type l. Type ll muscle fibers ensure that men have a greater power output; while women, with their predominance of type l fibers, have a greater capacity for recovery than men.
Gender Differences in Strength
According to the Journal of Exercise Physiology, women generally produce about two-thirds the amount of total strength and applied force that men produce. Women are also physically built so that they generally carry two-thirds as much muscle mass as men.
This proves that there is, in fact, a difference in strength, that men are typically stronger, and that most of the difference is based on body size and muscle cross-sectional area alone.
Practical Application of Strength Differences
Because human muscle tissue is made up of the same thing regardless of gender, all human muscle responds to stimulation in the same way. If a woman trains with weight that meets her thresholds, she will gain strength at the same rate as a man who trains at the same level of intensity, relative to his threshold.
Progressive overload, or the idea of periodically increasing resistance load to challenge the limits of strength, is key to building strength and power; both men and women can achieve this.
It can be seen, however, that women tend to match the strength of men more closely in lower body muscles than in upper body muscles. For examples, squats and lunges come easier to women than push-ups or pull-ups.
Functional Differences Between Genders
As sure as power lifting and other muscle building sports and exercise programs are more challenging for women, many flexibility-related movements are more challenging for men. Because muscles are essential in the flexibility equation, it must be credited to women that they have the muscular strength advantage in certain areas.
While men are taller and broader, built to carry and lift, women are more inclined to use muscular strength for tasks related to flexibility, coordination and balance. More women than men take yoga classes and that may be part of the reason that women who perform stretching exercises along with lower-body strengthening exercises have the edge on balance says the American Heart Association.
It has been proven that although men typically have better performances in sports such as sprinting, distance running and swimming, given the proportional difference in height and muscle area, women are actually stronger in these events. In the absence of external-weighted load, women can be considered to be the supreme sex in sports reliant on rhythmic use of muscular coordination.
All in all, it is true that women are generally not as strong as men. It is also true, however, that much of this lies simply in how the bodies of men and women are built for different purposes. Because of differing size and function, the same muscles groups and potential for strength-gain work on different scales.