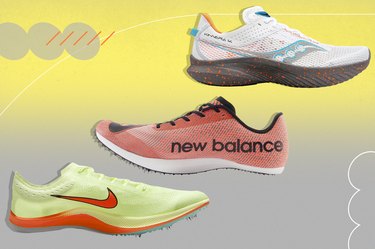 While there's a ton of information out there about the best running shoes for longer distances, sprinters often get overlooked. And if you're someone who would rather run 100 meters than 100 minutes, you may be wondering what you need to perform at your best.
Though most training shoes can be used for any running distance, there are some in particular that lend themselves to speedy intervals. And although you have a bit more guidance when it comes to racing — most spikes are designed to perform best at a specific distance — it can be difficult to figure out which ones are right for your needs, especially when buying online.
To help you choose, we gathered our favorite sprinting shoes for every race, workout and training run. Check out our picks below, and read up on how to choose one for yourself.
Sprint Spikes vs. Racing Flats vs. Training Shoes: What's the Difference?
First and foremost, there are a few types of shoes you can use for sprinting. So, it's helpful to know the differences to guide your purchases. We turned to Meg Takacs, running coach and founder of the workout app Movement& Miles, to explain the available options and when to use each.
These are made for the track and work best for 200, 400, 800 and 1200 meter runs. Spikes are made to help you produce as much power as you can from the ground up — you push down, and when you pull back in your stride, the spikes stop you, literally, in your tracks, to propel you forward faster than normal running shoes.
You can utilize triple extension (ankle, knee and hip extension) and hamstring strength a lot more efficiently in spikes than in a training shoe, which is why they help you run faster and are made for speedwork and racing.
These have rubber nubs for traction as opposed to a metal spike. They're are also lighter than your average training shoes, which give you a high energy return and can shave seconds, even minutes, off your time. Racing flats usually have highly responsive, lightweight foam and are best for races under a 5K.
These are your every day, every distance kind of shoes. Don't worry about trying to optimize performance or enhancing running mechanics or strength with these — they're simply made for producing natural, economical strides.
Less is more when it comes to training shoes. If you wear high performance, carbon plated, high tech shoes every day, your body eventually acclimates to those features, which can cause a loss in your natural running mechanics.
Takacs helped us narrow down your sprinting shoe choices and tap into exactly what you should look for to find the best picks for your goals. To determine which shoes were best, we considered the following criteria. You can learn more about how we cover products here.
Price
Durability
Weight
Materials
Design
A Quick Language Note
We make deliberate choices about the language we use when it comes to gender. But because manufacturers typically market shoes according to gender, we've listed both women's and men's picks below.
However, the main difference between most men's and women's shoes lies in the shoe width and size. In some cases, men's shoes are built to support greater weights. So people with bigger bodies may want to opt for men's versions, whereas people with smaller bodies may prefer women's versions.
1. Best Overall: Saucony Endorphin Speed
If you're looking for a shoe that can do it all, the Endorphin Speed 3 is a pretty great candidate. This shoe is somewhat of a trainer-racer hybrid that employs a nylon plate and speedy design with a sturdier midsole and upper that are more than capable of holding up to everyday training.
It uses a combo of the PWRRUNPB foam— a lighter, faster version of their typical TPU bead foam — that offers a soft but incredibly responsive feel, paired with a winged, S-curve nylon plate that gives the shoe some snap as well as support.
Because the plate is nylon, it isn't quite as aggressive as a carbon plate, but it still makes this shoe feel faster than an un-plated option. That said, it makes a terrific choice for someone who wants one shoe to train and race in.
"These are also pretty breathable, which promotes greater 'feel' with your ground contact," Takacs says. "The more immediate the feedback between your body and brain is, the more connected you are within your stride."
2. Best Overall Track Spike: New Balance FuelCell SuperComp SD-X
While the New Balance SuperComp may not be quite as well known as other sprinting spikes out there, it definitely should be.
"It pairs a full length carbon-fiber plate with the light and responsive FuelCell foam that gives it a super fast, aggressive feel, helping to increase the power in your turnover — or cadence — as well as the power in your propulsion phase," Takacs says. It also has a heavily spiked sole, which when paired with its six strategically placed spikes, gives you excellent grip even on a wet or banked track.
The upper is a super lightweight and breathable synthetic knit with reinforcements where you need extra support — mainly the mid-foot. A former 800-meter runner herself, Takacs loves these shoes particularly for middle distance. "These are definitely durable for more than 200 meters, and based on personal preference, solid enough for anything up to 1200 meters," making it a great choice for many types of sprinters.
3. Best for Short Sprints: Puma evoSPEED Tokyo Future 4
While you probably won't be as fast as Usain Bolt, a good place to start is with his shoes. Though not the exact models he wore to set his record-breaking times, the evoSPEED is one of the fastest short-distance sprint shoes on the market, best for 100 to 200 meters.
Unlike a mid-distance shoe, which prioritizes cushion and breathability a bit more, these are designed to be stiff and aggressive. They have a single piece of upper material reinforced with carbon-fiber threads, and a full length internal carbon fiber plate that gives the shoe maximum propulsion.
The shoe also features an external plastic plate with eight permanent pins per shoe. While the permanence of the pins does give it unrivaled stability, you may have to replace them earlier than other spikes that have replaceable pins because they do tend to dull over time.
4. Best for Middle-Distance Sprints: Saucony Endorphin Cheetah
Mid-distance runners can often find it difficult to get the perfect balance of light, fast and comfortable, but this shoe comes pretty close to perfect for running 400 to 800 meters. It has PWRRUN HG foam for the midsole, which gives it incredible bounce and responsiveness. It also features a carbon fiber plate that has an aggressive upturn at the toe, allowing you to roll more effortlessly through your feet with every step.
The shoe also features a breathable mesh upper and a lightweight spike plate that's flexible and grippy. The slightly higher stack height allows for a more cushioned feel than most spikes, which is great for longer races up to a 5K. But because of how light the shoe is — only 4.2 ounces for a men's shoe — it can also dip down to perform well in races as short as 400 meters. This makes it incredibly versatile and worth the high sticker price.
5. Best for Long-Distance Sprints: Nike ZoomX Dragonfly
If you go to any track meet for high schoolers up to elites, you'll see a majority of feet clad in the Dragonfly. This shoe has been a go-to for mid- to long-distance runners for years, thanks to a stellar fit and low weight.
A big benefit of this shoe is that it can be worn without socks — a preference for many runners, specifically in wet conditions or events like the steeplechase. It also uses the Nike ZoomX foam, which is found in almost all of their elite racing shoes — both track and road — and a lightweight mesh that's breathable but supportive.
"In terms of energy return — aka how, where and when you strike the ground — these lightweight shoes are great for providing natural foot placement under the hips and proper mechanics," Takacs says.
The forefoot plate is much flatter and less aggressive than shorter distance spikes, which makes it more comfortable when running a mile or more. But it does still have some ridged texture, which gives you grip and prevents slippage on turns.
6. Best for Track Workouts: Saucony Kinvara 14
If you're doing a track workout, you don't want a shoe that will weigh you down — but most of the time you don't want to be wearing spikes either. Enter: the Saucony Kinvara.
The Kinvara has been at the top of the leaderboard as one of the lightest weight trainers on the market for years, and while its newest iteration is slightly heavier, it still comes in at only 7 ounces for a men's shoe.
It uses Saucony's PWRRUN foam, which is both lightweight and responsive, and has a minimal amount of rubber on the outsole placed only where you really need it — under the big toe and at the heel. The upper is also pared down: It uses an open mesh that is super breathable and coincidentally light weight, but still sturdy and snug, so it won't slip off your feet during sprint interval repeats.
Best of all, the shoe comes in at only $120, which makes it one of the most affordable trainers out there.
7. Best for Short Road Races: Asics Metaspeed Sky
This shoe will serve you well for many types of sprinting, like mile races, 5Ks and tempo runs. Unlike most carbon plated racers, this one is much closer to the ground, so it doesn't feel as bulky as some of the competitors. This allows you less room to sink down and increases turnover — a necessity for sprinting.
"These have the magic trio: the perfect amount of cushion, stability and propulsion," Takacs says. "I prefer them over other aggressive carbon plate shoes because the carbon plate in these isn't as rough as other shoes, making them great for mid-foot strikers."
The midsole is made from the Asics FF Blast Turbo foam which, like all racing foams, is designed to be highly responsive and cushioned. But while it does have an initial cushiony feel, the carbon plate sandwiched between the midsole and curved sole design enables a super quick cadence and helps to propel you forward.
This shoe also has a grippy rubber outsole, which prevents any slipping on wet pavement and increases the durability of the shoe so you can get your max mileage out of it.
8. Best Daily Trainer: Hoka Clifton 9
Sprinting is hard on your joints, so for recovery days and light training runs, you want something soft, pillowy and shock absorbing. The Hoka Clifton is all of that. It has a thick EVA foam sole that's not only incredibly comfortable, but also helps you to run more efficiently thanks to the curved sole.
Though this is technically a neutral shoe, your foot sits down about 1/3 of the way through the foam, which gives it a decent amount of stability, and prevents your heels from moving around much in the shoe. Because of this, it works great for both neutral runners (where your feet stay centered in your shoe) and mild over-pronators (where your feet roll inward). Plus, if you want some more support, you can always remove the sock liner and stick in your insert of choice.
9. Best Budget-Friendly Trainer: Brooks Launch 9
The Brooks Launch is a fast, lightweight shoe that makes a great everyday training option for those that prefer something a bit more minimalistic. Because sprinters don't generally put in a ton of mileage per week, they can usually get away with something on the lighter side.
This shoe uses a midsole full of Brooks' DNA foam, which is designed to adapt to your gait as you run. The upper is also made with a super lightweight and breathable material that helps keep your feet feeling cool and prevents overheating.
Tips to Find Your Perfect Sprinting Shoes
When looking for your perfect fit, there are a couple of factors to consider.
1. The Surface You're Running On
Most important will be the surface that you're running on. If you are on anything besides a track, you'll want to opt for a shoe rather than a spike. A traditional running shoe will always be the most versatile and will give you the most cushioning and support. If you're going to be running on a track, you can opt for spikes, but you don't necessarily need to.
2. The Type of Workout (or Race) You're Doing
Next, consider what you'll be doing in the shoes. Are you racing or just doing sprint workouts for a fun challenge? If you'll be racing, you probably want to invest in a racing shoe. If you're on a track, this means a spike, and if you're on pavement, this means a racing/carbon plated shoe.
If you're just doing workouts, you'll probably be better off with a traditional running shoe, as it will be a better investment as far as use-to-price ratio, and it will be a more comfortable and protective option.
3. The Amount of Cushioning and Support the Shoe Has
Finally consider cushioning and support. While this concept is somewhat moot when it comes to spikes, it's definitely something to consider when it comes to training and everyday running shoes.
If you're someone who needs more support, you may do best with a neutral shoe and getting it to your ideal support level with an insert. This is a bit more customizable than going for a stability shoe, and many stability shoes are on the heavier and firmer side of the spectrum.