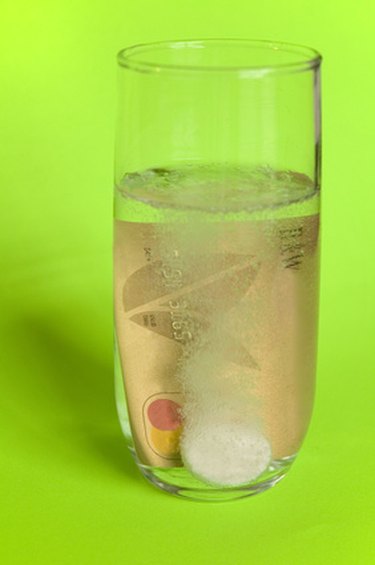 Sodium bicarbonate, which you may know as baking soda, is an antacid that relieves heartburn and acid indigestion by neutralizing excess stomach acid. Sodium bicarbonate is available without a prescription in a variety of forms, such as tablet, solution, powder and capsule, which you take orally. Talk to your doctor about what form and dose of sodium bicarbonate is best for you.
Warning
If your doctor or health care provider prescribes sodium bicarbonate, follow her instructions as to how much and how often you should take this medication. If you are treating yourself, follow the directions on the package. If you have any questions or concerns, talk to your doctor or pharmacist. Do not take sodium bicarbonate for longer than two weeks, unless your doctor tells you otherwise. The following dosage information simply reflects the average doses of sodium bicarbonate according to the Mayo Clinic.
Sodium Bicarbonate Tablets
To relieve heartburn or sour stomach, adults and teens should take 325mg to 2g one to four times a day, one to two hours after a meal with a full glass of water. Children between the ages of 6 and 12 need 520mg, a dose that your child can repeat after 30 minutes if necessary. Your doctor must determine the dose for children below the age of 6.
Sodium Bicarbonate Powder
Adults and teenagers should take 1/2 tsp. in a glass of water every two hours to relieve heartburn or sour stomach, while your doctor or health care provider must determine dosing for children.
Sodium Bicarbonate Effervescent Powder
Take 1 to 2.5 tsp. or 2.9 to 10g in a glass of cold water following meals, exceeding no more than 5 tsp. or 19.5g per day. Children between 6 and 12 years can take 1/4 to 1/2 tsp. or 1 to 1.9g in a glass of cold water following meals. Those under 6 need a doctor to determine dosing information.
Missing a Dose
Your doctor may tell you to take sodium bicarbonate on a certain schedule, so if you miss a dose you should take it as soon as you remember it. If you remember your missed dose close to when you are to take another dose, just skip the missed dose and continue with your regular schedule. Do not take a double dose.
Overdose
Though sodium bicarbonate is nontoxic, serious complications from overdoses or allergic reactions may occur. Symptoms of overdose include thirst, abdominal pain and possible severe vomiting and diarrhea. If you suspect overdose, you should immediately contact poison control or medical help. Do not force vomiting unless poison control advises you to.