Running is one of the best physical activities you can do to lose weight. A regular running program has other health benefits too. You improve the condition of your cardiovascular system, thereby cutting your risk of developing heart disease and other medical conditions. Once you achieve your weight-loss goal, keep running. That will help you keep the pounds from returning. Consult with your doctor before starting a new running program.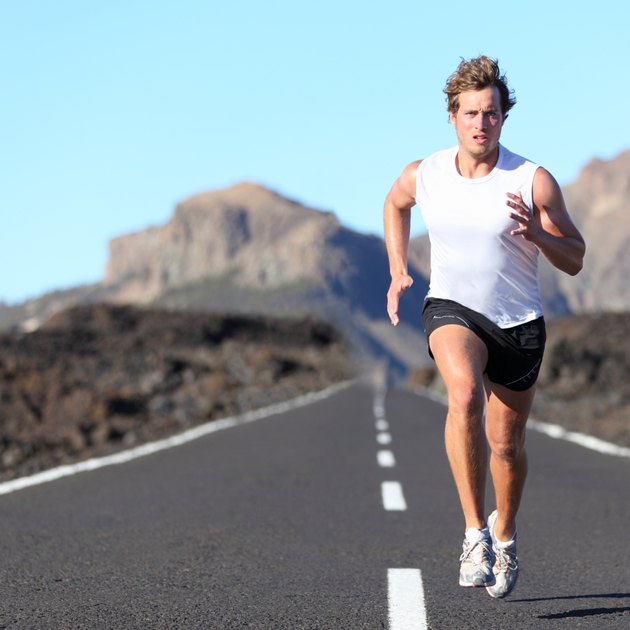 Recommended Minimum
A typical adult should get at least 2 1/2 hours of moderate exercise each week. This is sufficient to achieve an adequate level of physical and cardiovascular fitness. An average of 30 minutes a day of vigorous exercise such as running is even better. However, for substantial weight loss, you probably need to run even more. Drink plenty of fluids to stay hydrated, and wear a good pair of running shoes to minimize the chance of injury.
Basics of Running
When you start a running exercise program, take it easy at first. Keep your heart rate down to 40 to 50 percent of your maximum heart rate, or MHR. To estimate your MHR, subtract your age from 220 if you are a man or from 226 if you are a women. As your physical fitness level improves, gradually increase the intensity of your running.
It's helpful to run harder than usual at times. This speed work will help you improve your endurance and burns a few extra calories. For the most part, concentrate on running distance, whether fast or slow.
Calories and Pounds
Ultimately, the amount of weight you can lose by running comes down to distance. The farther you run every day, the more calories you burn. The more calories you burn, the more weight you can lose. If you run faster, you will burn a few more calories per mile. But if you slow down and run more, you use up a lot more calories.
Suppose you weigh 160 pounds. If you run 5 mph, you will burn about 581 calories an hour, or about 116 calories per mile. Running at 8 mph, you'll burn 122.5 calories per mile. Let's say you want to lose one pound per week. That means that you must burn an extra 3,500 calories weekly. In this example, you need to run about 30 miles per week at 5 mph. At 8 mph you need to run 28 1/2 miles.
Diet
When you start exercising it's all too easy to start eating more. Start a journal to keep track of the calories you consume. Avoid sweets, fast food and alcohol. Include more fruit and vegetables in your daily diet.
Consider making a meal planning easier and healthier by using an online diet program. The best thing about combining diet and running to lose weight is that the pounds come off a lot faster. If you make running and healthy eating a permanent part of your lifestyle, the weight will stay gone.