When your goal is to burn fat and lose weight, you don't want to waste time on a method that is less than the best. Finding the optimal way to lose weight by burning fat can be difficult, though. It may depend on whom you're talking to, but many fitness professionals consider cardio exercise the best way to burn fat and lose weight. But it's how you perform cardio that can provide the best results.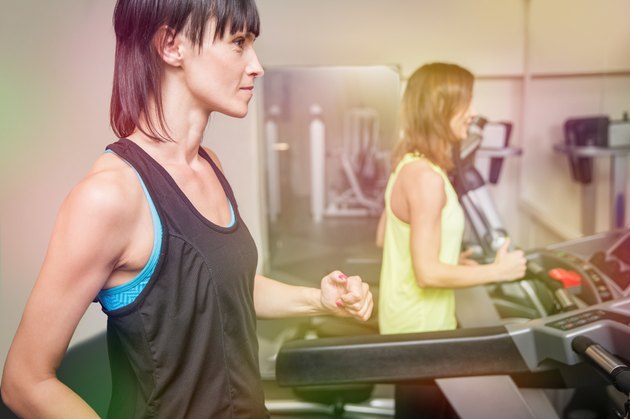 Effective on its Own
There's no way around it: cardio exercise is the key to effective fat burning and weight loss. According to Phil Parham and Amy Parham in their 2010 book "The 90-Day Fitness Challenge" cardio exercise raises your heart rate, increasing the number of calories you burn in the process, and accesses fat and other energy sources. There are various factors that affect how many calories you can burn with cardio, such as your weight and the intensity of the exercise you're doing, but the Parham's say that, on the average, a one-hour session of vigorous cardio can burn around 500 calories. ShapeFit.com confirms the estimate, listing several cardio activities that burn 500 to 600 calories in an hour such as cycling, rowing and training on an elliptical machine. A treadmill offers variations in speed and incline, which can potentially boost your calorie burn - and fat burn - even higher. Group fitness is another way to get your heart rate up. The fast pace of the music coordinated with the moves in classes such as floor and step aerobics, kickboxing, spin and Zumba will give you an effective and enjoyable cardio workout.
Super-Effective HIIT
Cardio exercise burns fat and calories but if you want to kick your burn up a few notches, turn your usual cardio workout into High Intensity Interval Training. In his 2008 book "ABS for Life - The No. 1 Solution on How to Get Six Pack ABS" Neil Frost explains that HIIT is the preferred choice for burning and weight loss because it essentially shocks your body into burning more, and burning for longer periods of time. You can convert almost any cardio workout into a HIIT workout. If you run, for example, whether you do it outside or on the treadmill, you can perform a HIIT workout by running fast for a minute then slowing to a jog for a minute, continuing to alternate the fast/slow intervals for your entire workout. The good news is HIIT workouts only take half the time of regular workouts, so if you typically trundle along on the treadmill for 45 minutes to an hour, you only have to spend 20 to 30 minutes running with HIIT. In general, as your body adapts, you should increase the intensity of all of your workouts.
Improving Results With Resistance Training
Even though cardio exercise is an excellent way to burn fat and lose weight, combining it with resistance training will increase your body's fat-burning capacity both during and after your workout, according to Idaho personal trainer Matt Siaperas. When you lift weight, you expend energy and burn calories, although typically at a slower rate than cardio exercise. So after you're done lifting weights, your body goes to work repairing the muscle tissue, removing lactic acid by converting it back to pyruvic acid and replenishing glycogen. All of that takes energy that burns calories. While lifting weights does not directly access fat reserves in the way that cardio does, it can create a calorie deficit which contributes over time to fat loss. Also, improved lower body strength and muscular endurance can contribute to improved performance in many cardio exercises. Men's Fitness recommends doing the cardio portion of your workout after resistance training for optimal results.
Watch Those Calories
If you're taking in more calories than you're burning, you won't lose any weight even if you're performing HIIT cardio exercise in combination with resistance training. In her 2012 book "A Woman's Guide to Muscle and Strength" Irene Lewis-McCormick points out that what matters the most for fat and weight loss is to get to the point where you're expending more calories than you're consuming. Starting a cardio exercise regimen will bring results, but those results will come quicker if you cut your caloric intake down below the number of calories you burn during exercise.