The gym is a perplexing place for many people. What exercises should you do? How many sets and reps? How much weight? And, what type and how much cardio will help you burn that belly fat?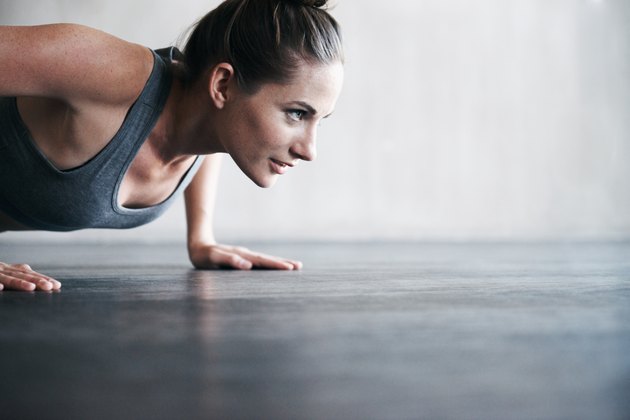 It doesn't need to be that confusing. Any type of gym workout will help you lose weight, and the best routine is one you enjoy doing. That being said, there are a few types of workouts that stand out among the rest.
Fat-Burning Exercises
The first thing to note is that the best exercise to lose weight is one that challenges you. Going for a leisurely walk on the treadmill a few times a week is not going to make much of a dent in your body fat. As with anything in life, if you want to lose weight, you have to work for it.
So make sure that you are working to your potential each time you go into the gym. And, be sure your routine is progressive — meaning the challenge increases over time. Add a little more weight, a little more speed, a few more sets or reps of each exercise. The harder you work, the more benefits you'll reap.
Best Gym Cardio Workout
If you can read a magazine during your treadmill workout, you're not working hard enough. During a vigorous cardio workout, you can't talk without pausing and your breathing becomes rapid and deep. This gives you the greatest benefits, not only for your weight but also for your cardiovascular health. But if you're short of breath or in pain, it's best to cut back to a more moderate intensity and work up to a higher level.
If you are walking on the treadmill, aim to go at a pace of 4 mph or faster and/or increase the incline to challenge yourself even more. Jogging and running can burn more calories than walking, so if you can, up the pace. The same is true for the elliptical machine, stair climber, and stationary bicycle.
If your gym has a rowing machine, give it a try. Rowing works nine major muscle groups, according to strength and conditioning coach Becca Borawski Jenkins. The more muscle groups you can get working at one time, the more calories you can burn. For that same reason, if you are using an elliptical machine, use the handlebars to push and pull and get your upper body muscles working.
High-Intensity Interval Training Workouts
High-intensity interval training, or HIIT, is a type of cardio workout that alternates periods of intense effort with periods of recovery. The theory is that because you only have to work hard for short periods at a time, you can really push yourself and burn more calories than if you just stayed at a steady pace throughout your workout.
Interval training is not only time-saving, but also more effective for fat loss than steady state training. A systematic review and meta-analysis published in the British Journal of Sports Medicine in April 2019 examined data from 77 studies and found that people who did interval training lost 28.5 percent more total fat mass than those who did moderate-intensity steady-state workouts.
The researchers noted that fat loss isn't just about the number of calories you burn during a workout, but also about how your body reacts to training afterwards. Because HIIT is so challenging, your body has to expend more energy to repair and recover. Therefore, you continue burning calories at a higher rate after a HIIT workout than after a steady-state workout.
How to Do HIIT
The British Journal of Sports Medicine study researchers concluded that sprint interval training may be more effective than other types of interval training. This type of workout is easy to do on a treadmill at the gym. Here's a sample workout you can try:
Warm up at an easy pace for five minutes.
Increase your pace to a sprint for one minutes.
Return the treadmill to a fast walk (4.0 mph) for two minutes.
Repeat both intervals five more times, trying to work a little harder during each sprint interval.
Cool down at an easy pace for five minutes.
As its name implies, HIIT is intense. If you're just starting out, don't feel you need to sprint. A mix of walking and running might be just your speed. But do increase the intensity as you get fitter. Also, don't do HIIT every day. Your body needs time to recover after tough workouts, so it's best to space these workouts a couple of days apart.
Resistance Training Is Key
If you're not strength training, you're not reaching your full weight-loss potential. Strength training builds muscle mass, which not only makes you look lean and toned as you lose fat, but it also increases your metabolism. According to Paige Kinucan and Len Kravitz, Ph.D. of the University of New Mexico, muscle is responsible for up to 20 percent of your total daily energy expenditure, while fat only accounts for less than 5 percent. The more muscle you have, the more calories you'll burn around the clock.
There are many different types of resistance training programs for many different goals, whether it's building size, strength or endurance. The fact is, any one of these programs is beneficial for fat loss as long as it is challenging enough and gets progressively more challenging.
It really doesn't matter whether you're doing bodyweight exercises or Olympic lifts; as long as you're working hard, you're going to build muscle and burn fat.
Circuit and Tabata Training
Sample Circuit and Tabata Workouts
For a Circuit workout, try:
Pushups (12 reps, regular or knees).
Squat curls and presses (12 reps).
Sumo squats: (12 reps).
Plank hold (30 to 60 seconds).
Reverse lunges (12 reps).
Dumbbell rows (12 reps).
Kettlebell swings (15 to 25 reps).
Shoulder presses (12 reps).
For a Tabata workout, try:
Reverse lunges.
Mountain climbers.
Pushups.
Jump squats.
Renegade rows.
Kettlebell swings.
You can download a tabata timer app for your phone to make timing easy. Remember to warm up before your workout.